Other double winners include Theeb, Sivas and In Her Place.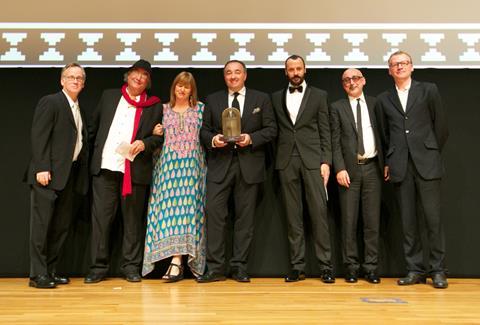 Andrey Zvyagintsev's Leviathan followed up its recent victory at the London Film Festival by winning the Black Pearl Award at the 8th Abu Dhabi Film Festival.
As well as claiming the festival's top prize, actor Alexey Serebryakov won the best actor prize in the narrative competition.
The Russian film, which explores one man's fight against corruption, debuted at Cannes where it won Best Screenplay.
This year's Narrative Features jury was led by Mumbai-based actor Irrfan Khan (The Lunchbox, Life of Pi)
The winner of the Black Pearl in the New Horizons category was Alice Rohrwacher's The Wonders. The director had been due to attend ADFF but had to cancel. Her sister, actress Alba Rohrwacher who plays the matriarch in The Wonders, was in attendance to accept the award.
The winner of the Black Pearl in the Documentary strand was Orlando Von Einsiedel's Virunga. The doc centres on a group of individuals who risk their lives to save the last of the world's mountain gorillas in the midst of a civil war.
Kaan Müjdeci's Sivas, about a boy and his dog in rural Turkey, picked up two awards: best actor in the New Horizons strand for young performer Doğan Ïzci; and best script in the new Child Protection Awards.
Albert Shin's In Her Place won best film in the Children Protection Awards while the film's Yoon Da-kyung won best actress in the New Horizons strand.
The other double winner on the night was Theeb, Naji Abu Nowar's film about a Bedouin boy who embarks on a perilous desert journey to guide a British officer to his secret destination.
Theeb won best film from the Arab world in the New Horizons strand as well as the Fipresci prize for best narrative film.
The awards ceremony at Abu Dhabi's Emirates Palace, where the festival has been based for the past nine days, was followed by the 3D premiere of Disney animation Big Hero 6, which received its world premiere (in 2D) at the recent Tokyo International Film Festival.
Narrative Competition Winners 2014
Black Pearl Award
LEVIATHAN
directed by Andrey Zvyagintsev
Special Jury Awards
TEST
directed by Alexander Kott
Best Actor
ALEXEY SEREBRYAKOV
from the film LEVIATHAN directed by Andrey Zvyagintsev
Best Actress
MARIA BONNEVIE
from the film A SECOND CHANCE directed by Susanne Bier
Best Film from the Arab World
MEMORIES ON STONE
directed by Shawkat Amin Korki
Best Director from the Arab World
GHASSAN SALHAB
director of The Valley
Special Mention ~ Narrative Competition
TIMBUKTU
directed by Abderrahmane Sissako
New Horizons Competition Winners 2014
Black Pearl Award
THE WONDERS
directed by Alice Rohrwacher
Special Jury Awards
STATIONS OF THE CROSS
directed by Dietrich Brüggemann
Best Actor
Doğan Ïzci
from the film SIVAS directed by Kaan Müjdeci
Best Actress
Yoon Da-kyung
from the film IN HER PLACE directed by Albert Shin
Best Film from the Arab World
THEEB
directed by Naji Abu Nowar
Best Director from the Arab World
LYÈS SALEM
director of THE MAN FROM ORAN
Special Mention ~ New Horizons Competition
LABOUR OF LOVE
directed by Aditya Vikram Sengupta
Documentary Competition Winners 2014
Black Pearl Award
VIRUNGA
directed by Orlando Von Einsiedel
Special Jury Award
NEXT GOAL WINS
directed by Mike Brett & Steve Jamison
Best Documentary from the Arab World
THE WANTED 18
directed by Amer Shomali & Paul Cowan

Best Director from the Arab World
YASMIN FEDDA
director of QUEENS OF SYRIA
Special Mention ~ Documentary Competition
RETURN TO HOMS
directed by Talal Derki
Child Protection Award Winners 2014
Best Film
IN HER PLACE
directed by Albert Shin
Best Script
SIVAS
directed by Kaan Müjdeci
Special Mention
Actor DENIS MURIC
in the film NO ONE'S CHILD directed by Vuk Ršumović
FIPRESCI AWARD for Best Narrative Film
THEEB
directed by Naji Abu Nowar
FIPRESCI AWARD for Best Documentary
UM GHAYEB (MOTHER OF THE UNBORN)
directed by Nadine Salib
NETPAC AWARD for Best Asian Film
IRAQI ODYSSEY
directed by Samir
Audience Choice Award Winner 2014
THE SALT OF THE EARTH
directed by Wim Wenders & Juliano Ribeiro Salgado