Dir: Anton Corbijn. Canada-Germany-Australia. 2015. 110mins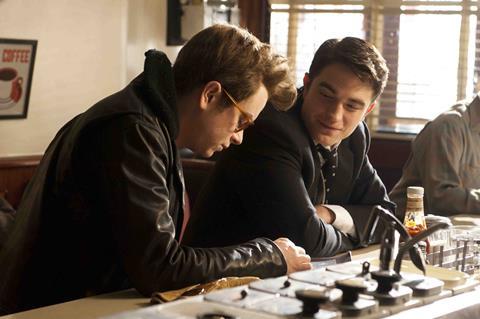 As chilled as the New York and Indiana winter-scapes where most of the film is set, and as self-consciously stylish as a hep-cat cocktail bar, this portrait of the brief friendship between Magnum photographer Dennis Stock and rising star James Dean leads, mostly, to that iconic photo of Dean in Times Square that was published in Life magazine, a cigarette dangling from his mouth, collar turned up against the rain.
Script problems aside, the film delivers on all the tech fronts, from production design to costumes to (naturally) the pin-sharp widescreen photography, which nails 1950s Americana without needing to lazily reference Edward Hopper.
It takes the long route there, meandering through the unlikely rapport between Robert Pattinson's Stock and Dane DeHaan's Dean, circling around two difficult characters, both tussling with their own demons, who seem to get more elusive the more we see of them.
At first this understated approach is refreshing, hitting the same minor key as the film's breathy jazz soundtrack, but by the end a certain frustration has set in, with not quite enough payback to justify the script's slow-burn dramatic arc. Director Corbijn, a celebrated still photographer before he began a double life with Ian Curtis biopic Control, is clearly fascinated by the power-play in the relationship between photographer and subject – but the script plays with the theme like a kitten with a ball of wool, and with the same attention span.
What resonates more than the wary friendship between Dean and Stock is the film's portrait of an era that is presented, for all its sharp suits and show of solid American values, as unsure of itself, ragged and hungry beneath its shiny veneer. This is a dourer, more austere package than the casting and Jimmy Dean angle might suggest, and will likely play more at the arthouse end of the urban crossover market, not unlike another recent DeHaan-starring dalliance with postwar American cultural icons: the Beat-poet drama Kill Your Darlings.
Pattinson's Stock is an insecure young photographer with ambitions to make great art for Magnum (where Joel Egerton plays his agency boss John Morris), but for the time being he's stuck on the film publicity and red-carpet treadmill in LA. Here, at a party hosted by Nicholas Ray, he meets the then relatively unknown Dean. The latter seems to recognise another troubled creative soul, and he invites Stock to a preview screening of East Of Eden that following day. With an estranged wife and young son to support back in New York, Stock is torn between the need to make money and his artistic ambitions, and realises that Dean, then on the brink of stardom, would be the perfect subject for a photoessay in Life magazine – then the serious photographer's Holy Grail.
What follows is a long courtship as the conflicted Stock tries to talk the conflicted Dean into doing a shoot to provide exposure that the latter is not sure he wants. The Hollywood system he's on the verge of being sucked into is embodied here in the film's tastiest performance – a nasally-enhanced Ben Kingsley as studio boss Jack Warner, who lays down the contractual law to the moody young star ("if you're not a good boy, I'm going to fuck you until it hurts very much").
Stock follows Dean to New York, where the photographer awkwardly tries to bond with his young son, and, always looking for the killer shot, accompanies the star around his old Actor's Studio workshops and hangouts. Then it's off to rural Indiana, where Dean grew up on a farm owned by his Quaker uncle and aunt.
The two leads convince as actors; it's the characters that are more of a problem. DeHaan method acts his way into the persona of a consummate method actor whose cool persona was partly a protective screen; his Dean is very much in the mould of the Dean remembered by his East Of Eden co-star Lois Smith, who once said: "He was a sweet, rustic person, but there was also this suspicious, taut, guarded young man". Pattinson's hangdog character is defined by an exchange in which, after Dean tells him he's disappointed in him, he replies "you're not the only one".
But this resentment and self-hatred simmers for two long without much reason or outlet – to the point where we start to wonder what Dean saw in the photographer, other than something the script always coyly denies – that he might be useful for his career. Script problems aside, the film delivers on all the tech fronts, from production design to costumes to (naturally) the pin-sharp widescreen photography, which nails 1950s Americana without needing to lazily reference Edward Hopper. Best of all is Owen Pallet's jazz soundtrack, which nails the strange mix of austerity and excitement that made the mid-fifties such an interesting times.
Production companies: Telefilm Canada, Film4, Screen Australia, Filmförderung Hamburg Schleswig-Holstein present in association with FilmNation Entertainment, Corner Piece Capital, Entertainment One, The Harold Greenberg Fund, Cross City Sales, a See-Saw Films, First Generation Films, Barry Films Production
International sales: FilmNation Entertainment, info@wearefilmnation.com
Producers: Iain Canning, Emile Sherman, Christina Piovesan, Benito Mueller, Wolfgang Mueller
Executive producers: Tessa Ross, Mark Slone, Michel Merkt, Mark Roberts, Sheldon Rabinowitz, Ross Jacobson
Screenplay: Luke Davies
Cinematography: Charlotte Bruus Christensen
Editor: Nick Fenton
Production designer: Anastasia Masaro
Music: Owen Pallett
Main cast: Robert Pattinson, Dane DeHaan, Joel Edgerton, Alessandra Mastronardi, Stella Schnabel, Ben Kingsley