The Golden Leopard of Locarno Film Festival's 68th edition went to Right Now, Wrong Then by South Korea's Hong Sang-soo.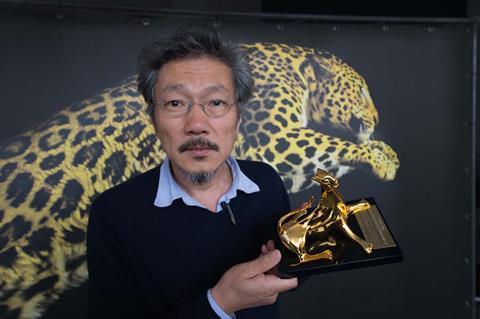 Scroll down for full list of winners
The top award comes two years after Sang-soo picked up the Leopard for Best Direction for his previous feature, Our Sunhi.
A previous winner of Locarno's top award from South Korea was Bae Yong-kyun for Why Has Bodhi-Dharma Left for the East? (Dalmaga dongjogeuro gan kkadalgeun) in 1989.
Right Now, Wrong Then – which is handled internaitonally by Fine Cut - also received the Best Actor Leopard for Jung Jae-Young and a Special Mention from the Ecumenical Jury.
The International Jury – which included German actor Udo Kier, Israeli filmmaker Nadiv Lapid and veteran US director Jerry Schatzberg awarded its Special Jury Prize to Avishai Sivan for Tikkun, and the Leopard for Best Direction to the veteran Polish director Andrzej Zulawski for Cosmos, his first film for 15 years since making La Fidélité in 2000.
Japanese actresses Tanaka Sachie, Kikuchi Hazuki, Mihara Maiko and Kawamura Rira were recognised with the Best Actress Leopard for their performances as four close friends in Hamaguchi Ryusuke's Happy Hour which was also given a Special Mention by the jury for Ryusuke's screenplay written together with Nohara Tadashi and Takahashi Tomoyuki
And a second Special Mention was made by the International Jury of the camerawork by Shai Goldman for Tikkun (which also picked up the International Federation of Film Societies' (IFFS) Don Quixote Prize).
Jury member Udo Kier, who had been given the task by his fellow jurors of reading out the "very, very difficult" names of the winners, pointed out that "there were some other films we liked, of course, but we only have some prizes and I hope you are all satisfied."
"I think that the films we have chosen are very different one from the other," Kier's fellow juror Nadiv Lapid explained after the winners were announced. "Through the films, you can see different types of cinema but also different attitudes to life and existence and to the world. It's not just one unique kind of cinema and not one unique kind of outlook about life."
"It was not an easy choice,"Jerry Schatzberg added, noting that the jury had spent over three hours on its deliberations for the five prizes.
Filmmakers of the Present & First Feature
Meanwhile, the Filmmakers of the Present competition jury headed by the Brazilian director Júlio Bressane awarded its Golden Leopard to Indian filmmaker Raam Reddy's Thithi and the Ciné+ Special Jury Prize to Mauro Herce's Spanish-French co-production Dead Slow Ahead.
In addition, the Prize for the best emerging director went to the Chinese filmmaker Bi Gan's Kaili Blues (Lu Bian Ye Can).
The Swatch First Feature Award went to Raam Reddy's Thithi which was described by jury member Haden Guest, Head of the Harvard Film Archive, as offering "a generous and invigorating vision of a small village in southern India, recalling the films of Jean Renoir at times. It is a film that speaks to traditions and relationships between generations and is, paradoxically, both a defining force and at the same time a means of liberation."
The newly created Swatch Art Peace Hotel Award, which consists of a three- or six-month artist's residency in Shanghai, went to the Iranian director Sina Ataeian Dena for his Iranian-German co-production Paradise, the first part of a Teheran trilogy on violence, which also picked up the Ecumenical Jury's CHF 20,000 prize and a commitment to distribute the film in Switzerland.
In addition, the Swatch First Feature jury gave Special Mentions to Elena Khoreva's Russia-Estonian-Ukrainian co-production Kiev/Moscow Part 1 and Bi Gan's Kaili Blues
Independent juries
Other awards included the FIPRESCI Prize to Pascale Breton's Suite Armoricaine, the Audience Award for Lars Kraume's Der Staat gegen Fritz Bauer; and the Europa Cinemas Label – now presented in its third year at Locarno – to Brussels-based Guillaume Senez's feature-length debut Keeper screening in the Filmmakers of the Present competition.
In addition, the "Environment is Quality of Life" Prize was presented to Rick Alverson's Entertainment, while Junior Jury Awards went, among others, to the Swiss omnibus film Wonderland (Heimatland) and to Petra Costa and Léa Glob's Olmo And The Seagull, which was executive produced by Tim Robbins and is handled internationally by Taskovski Films.
The high profile of Polish documentaries in this year's line-up of the Semaine de la Critique was then recognised in the jury's two prizes which both went to Polish filmmakers: the SRG/SSR Prize to Wojciech Staroń for Brothers, and the Premio Zonta Club Locarno to the film which promotes a better justice and social ethics to Call Me Marianna by Karolina Bielawska.
Saturday evening's awards ceremony on Locarno's Piazza Grande was then followed by the world premiere of the Brazilian film Heliopolis by Sérgio Machado, which is handled internationally by Berlin-based Films Boutique.
Locarno 2015 winners
INTERNATIONAL COMPETITION
Golden Leopard
Right Now, Wrong Then
Hong Sangsoo, South Korea
Special Jury Prize
Tikkun
Avishai Sivan, Israel
Best direction
Andrzej Zulawski for Cosmos, France/Portugal
Best actress
Tanaka Sachie, Kikuchi Hazuki, Mihara Maiko, Kawamura Rira for Happy Hour by Hamaguchi Ryusuke, Japan
Best actor
Jung Jae-Young for Right Now, Wrong Then by Hong Sangsoo, South Korea
Special Mention
Script of Happy Hour by Hamaguchi Ryusuke, Japan
Cinematography by Shai Goldman for Tikkun by Avishai Sivan, Israel
FILMMAKERS OF THE PRESENT
Golden Leopard
Thithi by Raam Reddy, India/USA/Canada
Special Jury prize
Dead Slow Ahead by Mauro Herce, Spain/France
Best emerging director
Kaili Blues by BI Gan, China
FIRST FEATURE
Best First Feature
Thithi by Raam Reddy, India/USA/Canada
Swatch Art Peace Hotel Award
Sina Ataeian Dena for Paradise, Iran/Gemany
Special Mentions
Kaili Blues by BI Gan, China
Kiev/Moscow. Part 1 by Elena Khoreva, Russia/Estonia/Ukraine
Leopards of Tomorrow
International Competition
Golden Leopard for Best International Short
Mama by Davit Pirtskhalava, Georgia
Silver Leopard
La Impresión De Una Guerra by Camilo Restrepo, France/Colombia
Locarno Nomination for the European Film Awards
Fils Du Loup by Lola Quivoron, France
Video subtitling award
Mama by Davit Pirtskhalava, Georgia
Special Mention
Nueva Vida by Kiro Russo, Argentina/Bolivia
National Competition
Golden Leopard for Best Swiss Short
Le Barrage by Samuel Grandchamp, Switzerland/USA
Silver Leopard
D'ombres et D'ailes by Eleonora Marinoni, Elice Meng, Switzerland/France
Best Swiss Newcomer
Les Monts s'embrasent by Laura Morales, Switzerland
Public Prize
Der Staat Gegen Fritz Bauer by Lars Kraume, Germany
***
Controversy
Locarno would not be Locarno with the occasional flurry of controversy for festival-goers to gossip about over their cocktails on the banks of Lago Maggiore.
This year, the local Swiss press decided that it smelt a rat in the generous hospitality packages offered by Locarno's sponsors to national politicians coming to the festival, and this led festival president Marco Solari having to give several interviews to defend the importance of sponsors for the event's survival and stressing that the artistic direction was not subject to any political or commercial pressure.
Waves of a more international dimension were made by a boycott campaign directed against the festival's collaboration with the Israel Film Fund on the organisation of the First Look showcase which had previously been staged as Carte Blanche.
In the event, two Tunisian filmmakers withdrew their projects from the Open Doors co-production lab; however, one festival insider said that the kerfuffle about the Israeli showcase was "not an issue" among the participants when Open Doors got underway a week ago.
Moreover, artistic director Carlo Chatrian was the target of some local Ticino politicians' ire at refusing to invite Aida Schlaepfer's Noun which depicts the suffering of Christian Iraqis culminating in their forced displacement from their homes in northern Iraq, and how this continues to this day.
The short documentary, which was produced by Minority Rights Group International & da Production, screened during the festival at the Il Rivellino art gallery in Locarno's old quarter so that the festival-goers could see what they might have missed..
And, just a stone's throw from Il Rivellino, visitors could see that construction work on the future Palacinema is indeed now underway opposite the Rotonda.
The festival's future headquarters – as well as home to a centre for the region's audiovisual sector – is due to be ready by 2017, in time for the film festival's 70th edition.
Festival stats
According to an initial analysis of this year's attendance, the 68th edition was in line with the previous year's performance with around 164,000 viewers compared to a total of 166,800 in 2014.
Meanwhile, the nightly open-air screenings on Locarno's Piazza Grande saw a slight increase of around 1% to 66,000.
The number of accreditations fell slightly from 2014's 4,232 to 4,209, and the number of attending press slipped from 962 to 937.
The current strength of the Swiss Franc was given as one of the reasons for the fall in accreditations, although the festival tried to cushion the blow of the unfavourable exchange rate by once more negotiating a special "festival meal deal" in the town's Manora self-service restaurant for accredited guests.
The thought of extending one's stay past the festival's official invitation was often quickly dispelled after being informed of the rate for overnight accommodation, traditionally already on the high side in Locarno even before Franc's upward trajectory.
The 69th Locarno Film Festival will run Aug 3-13, 2016.

LOCARNO BRIEFS
Development support
The Swiss authors' rights society SSA awarded a total of $159,000 (CHF155,000) in development grants to three fiction and four documentary projects.
Apart from Talkhon Hamzavi's feature debut Hot Spot, grants of $25,600 (CHF25,000) each were allocated to Late Bloomers director Bettina Oberli and her German co-author Cooky Ziesche for the Zodiac Pictures production Haus am See and the writing team Stéphanie Chuat and Véronique Reymond for Apollon, to be produced by Zurich-based Vega Film.
The four documentary projects selected for grants of $20,500 (CHF20,000) each included Georges Gachot and Paolo Poloni's Wo Bist Du, Joao Gilberto? about the late German journalist and novelist Marc Fischer's obsessive quest to trace the whereabouts of the Brazilian musician Joao Gilberto and Gachot's own attempts to meet by the founder of the Bossa Nova.
Polish animation focus
The 13th Fantoche International Animation Festival (Sept 1-6) in the Swiss town of Baden will focus on Poland's rich animation history and tradition as well as spotlighting its dynamic and highly differentiated contemporary scene represented by a young generation of directors.
Apart from four blocks of animation shorts, the Focus will also screen two animated feature films which significantly influenced the development of animation in Poland: George The Hedgehog and Crulic – The Path To Beyond, as well as a programme of films by Jan January Janczak who has been living in Switzerland since 1980.