Kyzza Terrazas' Somos Lengua and Rodrigo Cervantes' Los Paisajes each took home post-production services worth $52,000 at the Mexican festival on Friday night.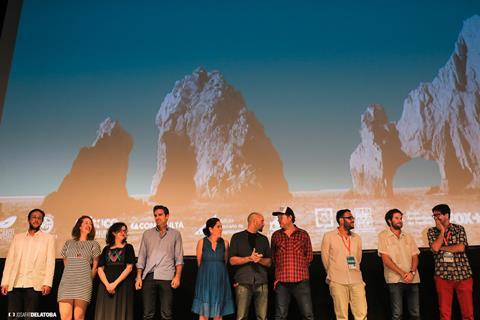 IMCINE director and Gabriel Figueroa Film Fund promoter Jorge Sánchez Sosa presented the awards at the Los Cabos International Film Festival gala event.

A jury comprised of Cristina Garza from Mundial, Santiago de la Paz of Nómadas and Cynthia Wiesner of Wiesner Distribution selected the first prize recipients.

The Fund honours outstanding cinematographers, offers support every year for projects in development and, in collaboration with Labodigital, supports films in post.
A jury comprised of Molly O'Keefe from the Tribeca Film Institute, Ségolène Roederer of Québec Cinéma and Mirsad Purivatra of the Sarajevo Film Festival awarded second prizes in the amount of $5,000 to seven development projects.
The recipients were: Marcelino Islas' History Lessons; Gustavo Gamou's F.B.I.; Pau Ortiz' Outside Of Prison; Luciana Kaplan's Rush Hour; Andrea Pallaoro's Beauty Salon; Pedro García Mejía's Tree; and Skin Deep by Paulina del Paso and Elsa Miller.

For the first time the Fund rewarded a project from North America. In collaboration with Labodigital, the Festival selected one film from the Tribeca Film Institute Documentary Film Fund to receive $52,000 in post services. Labodigital director Charles Barthe presented the award to Jeff Unay for Grey Water.
María Carranza presented the Splendor-Omnia Mantarraya post-production prize of $25,000 to Nicolás Celis, producer of Soy Negro.
During the ceremony the Spotlight programme was launched in honour of the career of young US filmmaker Alex Ross Perry.

At the end of the ceremony Atom Egoyan introduced the Mexican premiere of Holocaust drama Remember.