The lines between producers, distributors and exhibitors are blurring as independents attempt to stand out in a crowded theatrical field with innovative event and selfreleasing strategies. But do the figures add up? Geoffrey Macnab reports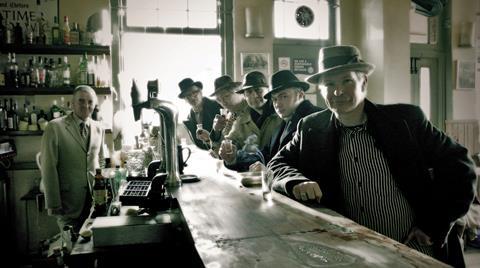 Event releasing is as old as cinema itself. Showmen have long lured spectators to films by promising them a unique, one-night-only experience. Now in the digital era it is becoming increasingly important to the independent sector.
On February 2, Julien Temple's Oil City Confidential, a rousing UK feature documentary about 1970s pub-rock act Dr Feelgood, will be launched in a rock &n' roll event beamed live to around 50 cinemas across the UK. The main screening will be held at Koko, a former Victorian theatre in North London, which will be followed by a live gig by Wilko Johnson, the original guitarist with Dr Feelgood.
"It's about creating an event and an excitement around your film," says Oil City Confidential producer Stephen Malit. "It's still cinema. It's still theatrical. But it's changing from blocking out 120 cinemas for two weeks and then seeing how it goes."
A fresh approach
Working with the film's sales agent HanWay Films as well as with Arts Alliance Media (AAM), EMI Records, which will release the soundtrack later this month, and the Mint Group (owners of Koko), Malit and his team intend to straddle the worlds of cinema, music and live-event industries. As he puts it: "We can create a new way of presenting films that doesn't involve distributors being left alone to put a film in their cinema."
The live event, including filming and satellite, is expected to cost around $75,000 (£45,000), with the digital release servicing 50 screens. This compares with what Malit estimates would have been $150,000 (£90,000) for a traditional release, excluding marketing. There is also the income from ticket sales for the live performance itself.
The aim is to repeat the event in Paris (to be beamed across Europe) and New York (across the US) in early May. HanWay is seeking local partners for these occasions, combined with traditional distribution deals.
There will be additional cinema bookings in the UK after the event, and the BBC has UK TV rights.
"It's a new way that doesn't involve distributors being left alone to put a film in their cinema."

Stephen Malit, producer
Meanwhile, AAM is partnering with EMI Records and the UK's Pulse Films on the theatrical release in January of another feature documentary, No Distance Left To Run, about the Britpop band Blur.
"EMI will release the DVD worldwide. They will handle television sales themselves. Their missing piece is theatrical," says Elizabeth Draper, vice-president of business development at AAM.
The release of the Blur doc follows the buzz generated by AAM's collaboration with EMI and Universal last year on Iron Maiden: Flight 666, a feature documentary about the heavy-metal band that was released in 42 territories on the same day. According to AAM, the film secured 100,000 admissions, 70% of which came from the one-day special screening.
Philip Knatchbull, CEO of UK exhibitor/distributor Curzon Artificial Eye, is enthusiastic about event distribution following the UK premiere in December 2009 of It Might Get Loud, David Guggenheim's documentary about the history of the electric guitar, at the digitally equipped live-music venue HMV Apollo Hammersmith. The premiere included an on-stage appearance by Jimmy Page of Led Zeppelin. As with Oil City Confidential, the idea was to stage a live film event with equal impact for film and music fans.
"Cinemas are moving away from their traditional [guise] to become more entertainment venues with mixed programming," says Knatchbull.
Curzon Artificial Eye's alliance with the UK's huge HMV Group, a music, games and DVD retailer, which last year saw the partners open a three-screen arthouse cinema in the London suburb of Wimbledon, provides obvious opportunities for cross-marketing film and music events.
On the face of it, the one-off event release is not an initiative likely to be welcomed by sales agents or conventional theatrical distributors. When a film has been shown once nationwide amid such hoopla, there is little incentive to give it a traditional release.
"Cinemas are moving away from their traditional [guise] to become more entertainment venues with mixed programming."

Philip Knatchbull, Curzon Artificial Eye
However Charlotte Thorp, director of worldwide sales and distribution, broadcast, DVD and new media at HanWay Films, believes event releasing can make commercial sense. "For the theatres, it's an alternative way to pull in new audiences and it also raises awareness of the film for us to exploit other revenue streams, such as through home entertainment, TV and digital media," she says. "Such an event adds value to the film and for the distributors who could come on board and use it as a platform to launch the film nationally.
"There is potential to then replicate this model in other countries and the technology allows for a multi-territory event, if required. This model is particularly interesting for those films which may otherwise struggle to find footing through traditional distribution channels where their competition is major studio blockbusters."
AAM's Draper agrees. "The whole concept with alternative content is that more often than not, it's a one-day-only event. You're doing a lot of direct marketing. You're trying to make it very cost-effective. You're getting people into cinemas usually in an off-peak slot ‹ a weekday, for example."
Profits are split on a revenue-sharing basis. For example, with Oil City Confidential, the event is being underwritten by Malit's music services company, Cadiz, which has set up partnerships with each of the companies for the role they play. The companies provide their own PR services in the area in which they have interests, covering cinema, live and music media. The income is then split between Cadiz and AAM for the theatrical screenings and between Cadiz and Koko for the live event, for which Koko is charging $33
(£20) a ticket.
"This model is interesting for films which struggle to find footing through traditional distribution channels."

Charlotte Thorp, HanWay Films
Event releasing is also increasingly commonplace for issue-driven films. Last year, Franny Armstrong's UK climate-change drama-documentary
, released theatrically in the UK by Dogwoof Pictures, was given a &green' premiere in London and beamed to 60 cinemas nationwide. The cast arrived on bicycles or in vehicles powered by chip fat. The popcorn machines were run by a person pedalling a stationary bicycle.
Extending the theatrical release
Self-releasing is being embraced by some big players. At the end of 2009, UK exhibitor Vue Cinemas teamed with Isle of Man-based financier and producer CinemaNX and NX Distribution to release Richard Linklater's Me & Orson Wellesdirectly into UK cinemas, bypassing a conventional theatrical distribution deal. Warner Bros UK were responsible for physical distribution and undertook to support distribution via video on demand and TV, while Tesco acquired exclusive year-long retail rights.
After grossing $712,000 (£434,500) from 15 screens after six weeks, Vue chief executive Tim Richards describes the theatrical release as a "steep learning curve". "[Orson Welles] reinforced that we can take a movie and open it, and give it some serious marketing and push," he says.
NX and Vue are planning further releases together, including The Disappearance Of Alice Creed starring Gemma Arterton, on March 12.
"The issue is how to stage alternative content events on a regular enough basis that these customers regard them as a staple part of their cinema-going diet."

Tim Richards, Vue Cinemas
Meanwhile, the UK's independent distributors are increasingly turning to multi-platform releasing to put arthouse and independent films in front of paying audiences who would otherwise be unwilling or unable to see them at the cinema. Most recently, Soda Pictures simultaneously released Alexis Dos Santos' romantic comedy Unmade Beds on 10 cinema screens, online and on demand via Sky Box Office, iTunes, Filmflex and PlayStation, on December 10.
In January 2009, Soda's Better Things had grossed twice as much on Filmflex as it had on UK theatrical release. The company will not provide figures for Unmade Beds but says the release was successful in extending the audience beyond theatrical.
"It's a reality if your film is not going to get played and people cannot go and see it," says Eve Gabereau, managing director of Soda Pictures.
Exhibitors acknowledge alternative content and event releasing remain a relatively minor part of their overall activities. But once cinemas are fully converted to digital, this may change.
The challenge remains, in Tim Richards' words, to find a business model for recurring alternative programming. "The issue is how to stage such events on a regular enough basis that these customers regard them as a staple part of their cinema-going diet rather than as novelties."