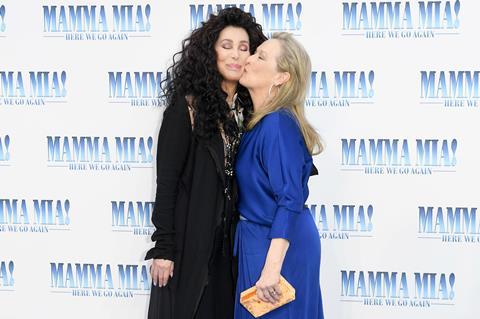 Universal top brass are preparing for the global launch of Mamma Mia! Here We Go Again this week, exactly 10 years after Mamma Mia! took off en route to a $609.8m final global tally.
The musical sequel, based like the original on Abba songs, ventures into 41 territories this week, day-and-date with Friday's [July 20] North American bow in approximately 3,200 theatres.
The UK, Australia, Germany, Spain and Abba's home country Sweden are expected to be among the highlights in the first wave as the family tentpole rolls out through September.
The 2008 original opened in the UK on $13.1m and grossed an extraordinary $94.4m by the end of its run to rank as the 11th highest film of all time in the territory in local currency. Those numbers adjust for inflation to $15m and $108.1m in real terms.
Also in action this week are Philippines, Malaysia, Argentina, Belgium, Switzerland, and Vietnam.
Universal executives forecast Mamma Mia! Here We Go Again will open higher than the original's $27.8m North American debut in July 2007. The musical finished on $144.1m and took $465.7m internationally.
Adjusted for inflation, those numbers equate to $31.9m, $170.9m, and $552.4m. The original's global tally adjusts to $723.4m in real terms.
The returning original cast of Meryl Streep, Amanda Seyfried, Dominic Cooper, Pierce Brosnan, Stellan Skarsgaard, Colin Firth, Christine Baranski, and Julie Walters are joined by Cher and Lily James.
The latter plays the pivotal role of a younger version of Streep's character Donna in the backstory. When the first film ended, Donna's grown-up daughter Sophie, portrayed by Seyfried, was still unsure which of Brosnan, Firth or Skarsgaard was her father. Additional new cast members include Alexa Davies, Jessica Keenan Wynn, Jeremy Irvine, Josh Dylan, and Hugh Skinner.
Original producers Judy Craymer and Gary Goetzman return to their roles. Ol Parker, writer of The Best Exotic Marigold Hotel films, directs the sequel from his screenplay based on a story he co-wrote with Catherine Johnson and Richard Curtis. Craymer is also the creator and producer of the stage musical.
Former Abba band members Benny Andersson and Björn Ulvaeus wrote the music and lyrics and serve as executive producers, alongside Tom Hanks, Rita Wilson, Mamma Mia! director Phyllida Lloyd, Curtis, and Nicky Kentish Barnes.
The studio's marketing team started to raise awareness back in December, orchestrating a global campaign that culminated in Sunday night's world premiere in London at the Apollo Hammersmith (pictured).
TV spots were scheduled during the Grammys and Winter Olympics, Cher performed live at CinemCon in Las Vegas in April, and double-decker buses loaded with singers and dancers performing Abba songs classics have appeared in New York, Chicago and Los Angeles.