Dir: Sameh Zoabi. France-Belgium-Palestine-Israel-Qatar. 2011. 78mins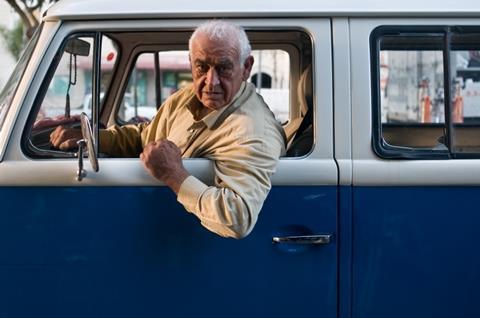 On paper, this story holds the potential of a heavyweight metaphor dealing with clash between tradition and modernisation in the Arab world. On screen, though, Sameh Zoabi's debut feature looks more like a breezy, rather inoffensive, lightweight comedy spiced with some uncomfortable bitters, offering a relatively cheerful portrait of life in an Arab-Israeli village and the confrontations erupting between its inhabitants when a cellular antenna is planted in its heart.
Zoabi's film is not out to fight any battles but rather to offer a pleasant popular entertainment, sometimes prickly but never really intent on drawing blood.
For the younger set and the womenfolk, it means better reception and easier communication, for the older men it is a symbol of Israeli occupation and another attempt to poison their lives and their crops. Thin plot which relies mainly on separate but unrelated incidents to keep its viewers alert, may irk passionate Palestinian militants, while rating as pleasantly amusing for those who are less involved in Middle East affairs.
Though defined in the Karlovy Vary Film Festival programme as a tragicomedy, the smile is never wiped off the audience faces even in its more dramatic, but never quite serious, passages. If anything, this is more like an adolescent - but very much family oriented - romp, focusing on a young Muslim man, Jawat (Razi Shawahdeh), who is desperately looking for presentable female companionship, despite all the obstacles strewn on his way.
In his case, a cell phone is of course essential to hunt for potential candidates and the antenna, offering better reception, is a blessing. Not so, claims his father Saleh (Bassem Loulou, from Elia Suleiman's Divine Intevention). He believes this is yet another Zionist plot to drive away the Arab population from its land. All the villagers risk getting cancer from the radiations, which will surely infect the olives on his trees, damage all his harvest and chase away the bees from the hives.
First, with some of his cronies, Saleh sets fire to the devilish contraption, then, when the cellular company puts it up again he expects no less than a popular uprising of the village to solve the problem. In the meantime, Jawat, who has failed once again his Hebrew tests without which he cannot enroll in the University, is courting a girl from the village only to be sent packing by her Christian parents, then is turned away from a kibbutz party by the bouncers who wouldn't allow Arabs in.
He tries to cross into the Palestinian Authority hoping to access there an Arab University but is blocked on the way by the Israeli security, establishes a sort of loose relationship with a girl student living next door to him but her policeman brother threatens to break his neck if he ever as much as touches her. Finally, after making a fool of himself all over the place, he shows his mettle when he joins the village elders and helps them organise their anti-antenna protest, which leaves the antenna itself intact but at least manages to ridicule the Jewish guardians placed around it.
For those who expect Palestinian films to breathe fire and spit brimstone, Zoabi's comedy will seem pretty mild. One reason being that at least technically, it is not an outright Palestinian film, but just like the definition used for the village in the picture, an Arab-Israeli one.
The action takes place within the Israeli boundaries, but its inhabitants are Arab and there is no doubt what identity they embrace in their hearts, whatever the color of their passports. And indeed, between the lines, there are constant reminders of the suffocating Israeli presence at every level of Arab life and the frustrations they engender, the frictions between old-time traditions (no alcohol) and young thirst (for beer) or the religious rifts inside the same community.
But nothing much is made out of all this. Only one statement stands out loud and clear – the faith that higher education could change all this for the better. With the benefit of a cast entirely at ease with parts they probably live on a daily basis, the fluid camera of Hisham Alouie which lends an easily appealing portrait of the village and with brisk cutting by Simon Jacquet, Zoabi's film is not out to fight any battles but rather to offer a pleasant popular entertainment, sometimes prickly but never really intent on drawing blood.
Production companies: Meroe Fillms, Lama Films, Kannakam, Versus Productions
International Sales: Memento Films International, www.memento-films.com
Producers: Marie Gutmann, Amir Harel, Ayelet Kait
Screenplay: Fred Rice, Sameh Zoabi
Cinematography; Hisham Alouie
Editor: Simon Jacquet
Production designer: Nael Kanj
Music: Krishna Levy
Main Cast: Razi Shawahdeh, Bassem Loulou, Louay Noufi, Abd Elhadi