Dir: David Cronenberg. France-Canada-Germany-US. 2014. 111mins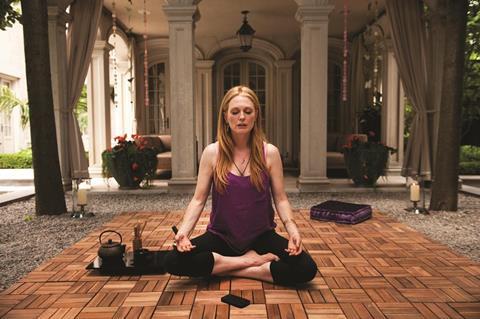 The long-awaited spawn of the union between director David Cronenberg and writer Bruce Wagner is Mulholland Drive, Sunset Boulevard and The Player wrapped up into one darkly comic, Gothic-tinged package.
The film doesn't quite get away with its attempt to reconcile satire with pathos, but it comes perilously close.
Cannes was always going to be the right launchpad for a film which is on one level a bitter but tasty satire on the amorality of Hollywood, channeled with verve and gusto by some of those who belong to the star system that is being sent up: Julianne Moore, Mia Wasikowska, Robert Pattinson, John Cusack and even Carrie Fisher (playing herself in a brief cameo). But the Cannes critical and industry insider reaction to a film whose targets are just one degree of separation from its audience may not be a fair litmus test once Maps To the Stars is forced to make its own way in the big wide world.
Outside of our celluloid cage, it's going to be the kooky and in the end surprisingly edgy story of a screwed-up tinseltown family's implosion that counts for more than the references to Harvey Weinstein, points on an actor's contract, and Scientology ("I'm thinking of converting as a career move", says the chauffeur/actor/screenwriter played by Pattinson). The film doesn't quite get away with its attempt to reconcile satire with pathos, but it comes perilously close.
Hollywood is a network, and Cronenberg's film (which takes its name from those guides to celebrity houses that starstruck tourists can buy) focuses on a small slice of this mesh. There's the Weiss family, made up, when first presented, of New Age TV self-help psychologist and celebrity therapist Stafford (Cusack), brattish, prematurely old, child-star son Benjie, just back from rehab, (an impressive performance by young Canadian actor Bird) and his highly-strung, hard-bargaining manager mother Cristina (Williams).
And there's also one of Stafford's regular clients, no-longer-young actress Havana Segrand (Moore, having a whale of a time), a monstrously ambitious woman haunted by envy of younger rivals and the shadow of a dead actress mother whose most famous role the nipped and tucked diva is hoping to reprise in a remake directed by an arthouse darling.
It's not immediately obvious who the seemingly sweet and shy girl from Florida is who arrives in town by bus but then engages the services of a private limo driven by aspiring actor and screenwriter Jerome (Pattinson). But we soon work out that Agatha (Wasikowska), whose face and body are scarred by burns, and who (thanks to Carrie Fisher) lands a job as Havana's 'chore whore', or personal PA, is the Weiss family's elder daughter – sent away into care after starting a fire in which she and Benjie nearly died while mum and dad were out.
Ironically, the TV show that is now making her early-teen brother $300,000 a week is called Bad Babysitter. Wasikowska is the lynchpin of the film's success, her always believable, sympathetic, occasionally scary performance as a car-crash of a teenager serving to ground the comedy dramatically and tow it into darker waters.
There's a real sting in the satire, and no holds are barred in the dialogue: typical is Havana's comment on a rival actress that "she used to let producers put their cocks in her arse and pee". With Mother Teresa, the Dalai Lama, Oprah Winfrey and Non-Hodgkins lymphoma roped into the merry dance, this is a film that revels in its lack of political correctness. But gradually the mood darkens and deepens as both Benjie and Havana begin seeing ghosts – the latter being plagued by visions of her actress mother (a brief turn by Cronenberg regular Sarah Gadon).
In fact with its permeable line between life and death, incest themes and its anger-fuelled satirical animus against the rich and famous, Maps to the Stars traces at least part of its ancestry all the way back to Ancient Greece and Rome. It's a baggy, audacious mix that makes up in brio what it lacks in dramatic coherence. And Cronenberg's go-to composer, Howard Shore, delivers one of his best scores yet for the dry Canadian maestro, a menacing undertow that picks up on some of the ethnic, New Age sounds of the world it depicts, but shifts them into Clockwork Orange territory.
Production companies: Entertainment One, Prospero Pictures, SBS Productions, Starmaps Productions/SBS Productions/Integral Film Production
International sales: eOne Films International, www.eonefilmsinternational.com
Producers: Martin Katz, Said Ben Said
Executive producers: Renee Tab, Patrice Theroux, Benedict Carver
Screenplay: Bruce Wagner
Cinematography: Peter Suschitzky
Editor: Ronald Sanders
Production designer: Carol Spier
Music: Howard Shore
Main cast: Julianne Moore, Mia Wasikowska, Olivia Williams, Evan Bird, Sarah Gadon, Niamh Wilson, Dawn Greenhalgh, John Cusack, Robert Pattinson