Shock move comes one month before inaugural edition of Macao event.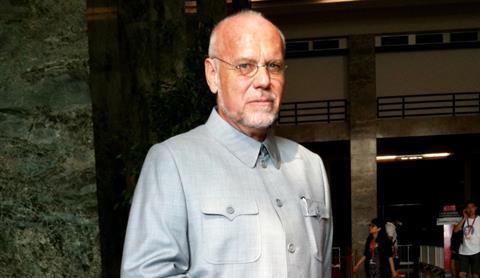 Veteran festival director Marco Mueller has quit his post as head of the International Film Festival & Awards Macao one month ahead of the event's first edition (December 8-13).
The surprise move was confirmed this morning by organisers who also said the festival would continue "as planned".
"The organising committee of 1st International Film Festival and Awards Macao (IFFAM) received notice from Macau Films & Television Productions and Culture Association (MFTPA) that Mr Marco Mueller has resigned from his position as festival director with effect from 13 November 2016.
"MFTPA reassures the organising committee that the secretariat will assume all responsibilities of the festival director and that this incident will not affect the organisation of the festival as planned."
An explanation for the abrupt departure has not been disclosed.
The Macau event, backed by the territory's culture and tourism authorities, is set to include a competition, out-of-competition and gala sections as well as industry conferences.
The full programme is expected to be announced on Monday [November 14]. India's Shekhar Kapur heads the jury for the international competition.
The semi-autonomous administrative region of Macau is located 65 miles from Hong Kong on the south-east coast of China.
Mueller was previously artistic director at European festivals in Locarno, Venice and Rome.
The industry veteran discussed the Macao event in a recent interview with Screen. Event advisors gathered by Mueller include Chinese producer/director Huang Jianxin, South Korean producer Oh Jung-wan, Olivier Pere from Arte France Cinema, US producer/director/screenwriter James Schamus, Hong Kong producer Nansun Shi, Portuguese producer and programmer Luis Urbano and former Fortissimo chairman Michael J Werner.
He also tapped into his frequent collaborators for the programming team: Lorna Tee as head of festival management, plus Deepti D'Cunha, Shan Dongbing, Marie-Pierre Duhamel, Sandra Hebron, Diego Lerer, Tomita Mikiko and Alena Shumakova. Industry veteran June Wu is spearheading the Industry Hub (December 9-11).