Dir: Rob Marshall. US. 2005.137mins.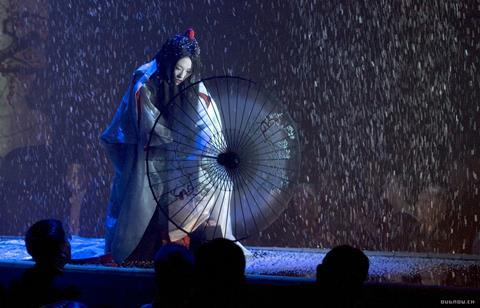 Rob Marshall's film of Arthur Golden's bestselling 1997 novel Memoirs Of AGeisha is brimming over with all the stunning detail, production opulence and visual splendour that a Hollywood picture with a budget in excess of $80m and a team of crafts experts can make possible. But Marshall, following up his blockbusting film debut Chicago, is finally unable to convert the unputdownable nature of Golden's book onto film. Although they possess long, compelling stretches, these celluloid Memoirs ultimately prove uneven and end with a whimper.
If its awards and criticalprospects are unsure, the film's commercial life looks bright. Memoirs is always entertaining and adultaudiences will relish the story of bitter rivalry in the world of the geisha -not too far removed from the rivalry between Roxie and Velma in Chicago.
International audiencesespecially will respond to the picture. Its success in Asian markets is almostguaranteed bearing in mind the star-studded cast of Chinese and Japanesetalent. But Europeans too, whose curiosity for foreign cultures is greater thanin the US, will welcome this glossy insight into a tantalising world rarelycovered on screen.
Success in the US - where itopens on Dec 9 - is not certain. Sony, which brought in Gary Barber and Roger Birnbaum's Spyglass Entertainment to co-finance the film,is spending heavily on the US pre-release campaign, opting for bold imagery,gorgeous trailers and Marshall's pedigree to woo a wide audience, since actornames like Ziyi Zhang and Gong Li have little swaywith middle-American multiplex viewers.
Without critical raves, thefilm may struggle, but as is the case with Hollywood economics these days, thedomestic release is not the exclusive focus on a film like Memoirs. International grosses should make up for any domesticshortfall.
Ironically, for all theadvance consternation about the fact that Chinese actresses play the leadJapanese roles, Spyglass and Sony are anticipating that the film will be amajor hit in Japan. Japanese audiences have embraced Hollywood films like The Last Samurai and The Ring, which are rooted in localculture and Memoirs also boasts somestar Japanese names in Ken Watanabe, Koji Yakusho andKaori Momoi.
Whether ZiyiZhang, whose films House Of Flying Daggers and Hero have been hits in Japan, but whose image is resolutely'Chinese', can win over Japanese audiences as a Japanese character isstill up in the air. Golden's novel itself was also aflop in Japan, so there are negatives to overcome.
The film is related as amemory in a cliche-heavy voice-over by the lead character Chiyoaka Sayuri, presumably inadvanced age. Her story begins in 1929 as she and her sister are sold by theirpenniless father to work as servants in the geisha district of Kyoto. The girlsare separated when only Chiyo (beautifully played asa child by Suzuka Ohgo) isaccepted in an okiya (geisha house).
The first 40 minutes takeplace in Chiyo's childhood as she struggles to escapefrom the geisha and find her sister, then accepts her fate when her sisterleaves the city without her and news arrives that her parents have both died.
Although she spends heryouth cleaning up after the okiya's star geisha Hatsumomo (Gong Li) and the young geisha-in-trainingPumpkin (Zoe Weizenbaum), Chiyo longs to be a geisha herself, especially after she isbefriended one day in the streets by the kindly and handsome businessman knownsimply as The Chairman (Watanabe). Her advancement is always thwarted, however,by Hatsumomo who is threatened by the girl's beautyand treats her with disdain and brutality.
When she reaches her lateteens and she has morphed into Ziyi Zhang (theactress formerly known as Zhang Ziyi, who hasreversed her names to a western style for this film), Chiyois unexpectedly taken as an apprentice by Hatsumomo'smain rival the legendary Mameha (Yeoh).
Hatsumomo is furious, although the okiyaboss Mother (Momoi) is delighted, seeing Chiyo as a future source of revenue once Hatsumomo loses her lustre.
Mameha trains Chiyo to perfectionand introduces her to men on the teahouse circuit. Adopting a new name Sayuri, the beautiful young geisha meets The Chairmanagain, although it is his friend Nobu (Yakusho) who shows the keenest interest. Althoughfrustrated by the scheming and gossip of Hatsumomo, Mameha starts a bidding war for Sayuri'svirginity, a traditional procedure which will show her protege's true financialworth.
The film takes a turn forthe worse when the character of Hatsumomo leaves thestory. As the geisha whose appeal is starting to fade, Gong Li, in her firstwestern film, brings a potent blend of viciousness and vulnerability to thescreen that gives the story its edge.
On her departure, the warintrudes and the film becomes episodic and consequently a little boring. By thetime Sayuri finally tells her feelings to TheChairman, Marshall has lost his grip on the audience. Too many years arecovered in too few minutes for the underdeveloped romantic elements of thestory to have an emotional impact on viewers.
Although she struggles toenunciate clearly in English, Zhang is absorbing in the lead role. As we haveseen from her Asian films - CrouchingTiger, Hidden Dragon and 2046among them - her mesmerising features alone can hold the screen. Memoirs is no different, and Marshallwisely realises that Zhang can reveal more in a close-up of her face thantrying to explain her emotions in awkward English.
Yeoh is the perfect third complement, bringing a movingmaturity to her part of Mameha, the supreme geisha who,unlike Hatsumomo, has learnt to suppress her ownneeds and desires for the sake of her patrons.
As he did in Chicago, Marshall has gathered abrilliant team to recreate his period world, and Oscar nominations, if not thetrophies themselves, should be rained down on the below-the-line talent.
Cinematographer Dion Beebe,production designer John Myhre, costume designer Colleen Atwood and makeupartists Noriko Watanabe and Kate Briscoe stand out, especially since most ofthe film was shot on sets in Ventura County in southern California.
John Williams's score,peppered throughout with glorious cello and violin solos by Yo-Yo Ma and Itzhak Perlman respectively, is of course lush and, like many of the visuals on show in Memoirs, a little too sweet.
Production companies
Amblin Entertainment
Columbia Pictures
DreamWorks Pictures
Spyglass Entertainment
US distribution
Columbia Pictures
International distribution
Spyglass Entertainment/Sony Pictures Releasing International
Executive producers
Roger Birnbaum
Gary Barber
Patricia Whitcher
Bobby Cohen
Producers
Lucy Fisher
Douglas Wick
Steven Spielberg
Screenplay
Robin Swicord
from the novel by
Arthur Golden
Cinematography
Dion Beebe
Production design
John Myhre
Editor
Pietro Scalia
Music
John Williams
Main cast
Ziyi Zhang
Gong Li
Michelle Yeoh
Ken Watanabe
Suzuka Ohgo
Koji Yakusho
Youki Kudoh
Kaori Momoi
Tsai Chin
Cary-Hiroyuki Tagawa