Dir: Clint Eastwood. US.2004. 132mins.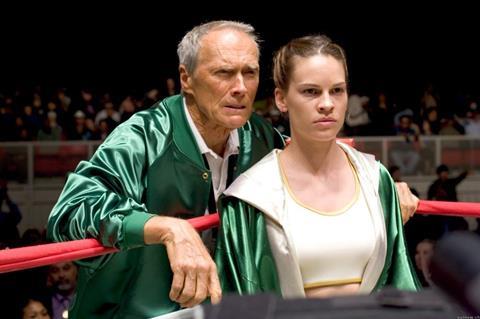 Like a very fine wine,Clint Eastwood is getting better with age. Now 75, the actor-director has delivered one of the year's best US films in Million Dollar Baby, just a year after he was winning plaudits for Mystic River. The movie, a melancholy, beautifully judged three-hander, displays - better than ever before- his extraordinary gifts for expertly-paced storytelling, precise characterisation and compassionate studies of human frailty.
Million Dollar Baby is so simply and artfully relayed that it immediately recalls the best boxing noir like Body And Soul or Night And The City
If it was not an Eastwood picture,Million Dollar Babywould be a hard sell. Ostensibly a Rocky-style taleabout a female boxer trying to hit the big time, it morphs into a tragedy ofredemption and love about two thirds in. Sports fans will be thwarted if theyare expecting a feelgood triumph-of-the-spirit story, and audiences who hatesports movies will be reluctant to see a film which looks like a sports movie.
That's where the criticscome in - and awards. The film will be received with wild enthusiasm by criticsand will be a frontrunner in the awards season which has just kicked off. Kudoswill drive specialised audiences to see the picture, if not immediately, thenas its momentum grows; then word-of-mouth will drive up grosses, especially whenwomen discover that it's a tear-jerker.
Like Mystic River,albeit not on the scale of that more epic piece, it will stay around intheatres and in public awareness all the way through the Oscar show at the endof Feb and beyond.
Its appeal will be skewed todomestic audiences since its story is again rooted in an Americana milieu. MysticRivergrossed $90m domestically and $66m in international territories; thesplit here should be in similar proportions, although the difference is that MillionDollar Baby is not being handled by Warner Bros in foreign but byindependents courtesy of co-financier Lakeshore International. They shouldaggressively market the film not so much as an American sports picture but asan award-winning drama possessed of huge emotional power.
Nor should Eastwood be under-estimatedas a movie star. He gives probably his best ever performance here, adding newdimensions to the hard-nosed, super-masculine, emotionally closed characterwhich he traditionally plays.
In the film which wasadapted by Paul Haggis from FX Toole's Rope Burns stories, Eastwood playsFrankie Dunn, an aging boxing trainer/manager whose tough, cautious strategyhas served him well but is starting to lose him boxers who want to earn moremoney.
He runs a gym in downtownLos Angeles managed by his only friend, an ex-boxer called Scrap (Freeman), attendsmass every day, although he continues to question his beliefs and the churchand harbours a deep unhappiness over his long-time estrangement from hisdaughter.
Into the gym one day walks Maggie Fitzgerald (Swank), a 31-year-old boxing wannabe, who comes from aworking-class white trash background and is determined to make something ofherself as a boxer. She begs Dunn to train her, but he refuses ("I don't traingirls" he says) until finally Scrap intercedes and Dunn reluctantly takes heron. Maggie trains relentlessly when she is not waiting tables and Dunn startsbooking her in fights which she wins, usually by knocking out her opponentswithin seconds.
He starts to feel paternalaffection for her and she filial affection for him, both filling a hole in eachother's lives left by their family situations. Throwing his cautionary strategyout of the window, he decides to let her take a stab at the world championshipopposite the fearful East German nicknamed The Blue Bear (real-life boxingchamp Lucia Rijker).
Eastwood never employs cinematic artifice or clutter to tell his stories and Million Dollar Baby is so simply and artfully relayed that it immediately recalls the best 1940s and 1950s boxing noir like Body And Soul or Night And The City.
Cinematographer Tom Sternhas lit it in sombre tones which lend it a stark realism, although Eastwoodkeeps the boxing sequences bright and dynamic. But for Eastwood, it's all aboutthe characters and he does little to detract from the relationship betweenFrankie and Maggie, which is the film's core.
The three performers areoutstanding and should all be up for awards recognition. Eastwood's FrankieDunn is a man defending himself against the heartbreak of life but who stillopens his heart when he takes on Maggie; Swank is back on top form after a fewyears of unsure footing in her career as the girl who just wants one moment inthe sun; and Freeman, provides his usual, understated supporting presence andadds an essential stability to the film. Freeman's narration also provessurprisingly effective in underpinning the drama.
Eastwood himself wrote the touching, sparsely-used musical theme which adds a layer of poignancy to the already heartbreaking story.
To sign up for Screen's weekly Reviews Newsletter with all the week's new releases, international openings and full festival reviews delivered free to your mailbox every Friday, please clickHERE.
Prod cos:Malpaso, Ruddy Morgan Productions, LakeshoreEntertainment
US dist:Warner Bros
Int'l sales:LakeshoreEntertainment
Exec prods:Gary Lucchesi &Robert Lorenz
Prods:Clint Eastwood, Albert SRuddy, Tom Rosenberg, Paul Haggis
Scr:Haggis, from stories fromRope Burns by FX Toole
Cine:Tom Stern
Prod des:Henry Bumstead
Ed:Joel Cox
Mus:Clint Eastwood
Main cast:Clint Eastwood, HilarySwank, Morgan Freeman, Anthony Mackie, Jay Baruchel, Lucia Rijker