Dir: Cheryl Dunye. US-Germany. 2012 64mins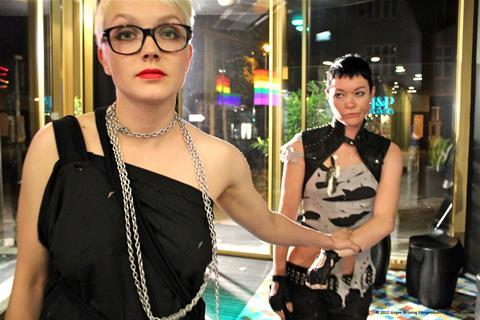 Mommy Is Coming, the latest from Cheryl Dunye, is a romp into lesbian porn, and an ode to the lust and leather of Berlin. The raunchy and very real sex in Mommy Is Coming could minimise the festival exposure that Dunye's earlier films - Watermelon Woman (1996), The Owls (2010) - have enjoyed. Yet porn pays handsomely on VOD, and the film will test whether the reach of such a product can be broadened by a Berlinale imprimatur.
The comic banter of Mommy Is Coming is light, fun, even wholesome in its kinky team spirit.
Mommy Is Coming has the flimsiest of scripts. Claudia (Papi Coxxx), who's black, and Dylan Eberhardt (Lil Harlow), who's white and blonde, are chafing in their relationship as Dylan seeks wilder sex in Berlin. As feelings fray, Dylan's mother, Helen (Maggie Tapert), arrives in town, eager to see her daughter and on the prowl for a man, since her own husband has turned to other women.
Cabdriver Dunye deposits Helen at a hotel where Claudia is working, disguised in the cheapest of stage moustaches as "Claude."
This burlesque of mistaken identities and see-through disguises, filled with double-entendres that begin with the film's title, feeds on Andy Warhol, John Waters and Bruce LaBruce as it moves mockingly from one sexual encounter to the next. There is so much tongue in cheek (and everywhere else) here that you're laughing hardest at the end, when a major taboo, even by the standards of Berlin dungeon play, is violated.
Performances in Mommy Is Coming (in a cast assembled by porn star/educator Annie Sprinkle) are mostly diva turns in the Charles Busch mode, along with a strong dose of inside Berlin jokes that salute the city's special status as a sex destination. Production values serve the comic needs of self-parody.
Wieland Speck, director of the Panorama section of the Berlinale, in which the film and others by Dunye showed, plays the husband of Helen, and makes no secret that he's not an actor. Lil Harlow as Dylan is a close-cropped platinum blonde and plays the newly arrived American as a send-up of the Jean Seberg of Breathless. Maggie Tapert, a 60-ish Zurich-based "sexpert" in the role of her look-alike mother, is as game as anyone else in the cast.
The comic banter of Mommy Is Coming is light, fun, even wholesome in its kinky team spirit. Yet wet leathery club scenes with multiple participants that seem intended to push the audience beyond the boundaries of queer cinema can feel studied and generic. Dunye, a film professor at her day job in the US, is at her best here when she plays for laughs.
Production Company: Jurgen Bruning Filmproduktion
International sales: m-appeal, www.m-appeal.com
Producers: Jurgen Bruning, Cheryl Dunye
Executive Producer: Claus Matthes
Screenplay: Sarah Schulman, Cheryl Dunye
Cinematography: Sanne Kurz
Editors: A.B., Oscar David
Music: Key Party
Main cast: Papi Coxxx, Lil Harlow, Maggie Tapert, Cheryl Dunye, Stefan Kuschner