EXCLUSIVE: The company has come on board to handle international sales in Berlin on the Sundance Midnight selection.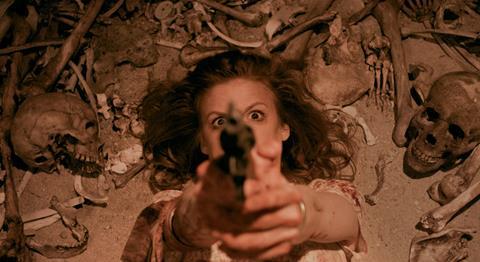 Content president of film Jamie Carmichael and head of sales Harry White will introduce Carnage Park to international buyers following a rousing reception in Park City.
CAA represents North American rights on Mickey Keating's 1970s-set thriller about a pair of hapless robbers that flees into a stretch of wilderness occupied by a psychotic ex-military sniper.
Ashley Bell, Pat Healy, Alan Ruck, Darby Stanchfield, James Landry Hébert, and Larry Fessenden star.
Eric B. Fleischman and Sean Tabibian produced Carnage Park via through their Diablo Entertainment label.
This is not the first time Content has headed to the EFM with a Sundance Midnight title and the company has enjoyed success with strong sellers The Pact, The Nightmare and Bound To Vengeance.
"Carnage Park is everything you could hope for in an ultra-cool elevated genre film – full of tension, stylish as hell, and tough as nails," said Carmichael and White in a joint statement. "We love it."
Content's sales slate includes action-thriller The Worker starring Michael Peña and produced alongside Jeremy Renner's company The Combine; Manolo Blahnik documentary Manolo; Maria Callas biopic Callas starring Noomi Rapace with Niki Caro directing; and sci-fi Higher Power that Lorenzo di Bonaventura produces.