eOne's awards contender posts excellent $4.1m (£2.5m) debut from 207 sites to dethrone American Hustle.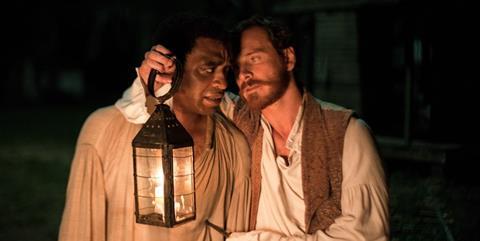 Following its ten BAFTA nominations and Golden Globe win for best dramatic film, 12 Years A Slave has got off to a stirring start at the UK box office, topping the chart and relegating American Hustle to second place.
eOne's critically acclaimed awards contender broke out with a terrific $4.1m (£2.5m) from just 207 sites for a mighty average of $19,880 (£12,132).
Its strong debut means that 12 Years A Slave is already director Steve McQueen's best-ever UK performer, topping the $3.3m (£2m) run of Shame.
With 12 Years A Slave set to expand from Friday (Jan 17), a week-on-week drop is likely to be minimal, meaning it stands a great chance of retaining the top spot as well as being a certainty to top the £10m mark during its run.
eOne also released Delivery Man in 372 sites, resulting in a $1.8m (£1.1m) debut to chart seventh.
The remake of Canadian film Starbuck (which received a limited three-site opening for $4,700/£2,885 in the UK) opened slightly behind Vince Vaughn's previous UK outing, The Internship, which recorded a $2.1m (£1.2m) bow from 409 sites and arguably benefitted from the additional presence of Owen Wilson.
ENTERTAINMENT
Last week's champion American Hustle fell to second as a result of 12 Years A Slave's strong opening.
Entertainment's Golden Globe winner added $3.1m (£1.94m) in its second weekend of nationwide release for $11.1m (£6.78m). It will shortly overtake Three King's $11.4m (£7m) UK result to become director David O. Russell's best-ever UK performer.
WARNER BROS
Experiencing its first drop of over 50%, The Hobbit: The Desolation of Smaug added $2.5m (£1.5m) in its fifth weekend as it fell to third.
Warner Bros' fantasy sequel has now hit the $65.8m (£40m) mark in the UK, but is now all-but guaranteed to end its run behind The Hobbit: An Unexpected Journey's $84.7m (£51.7m).
Also for Warner Bros, critically acclaimed sci-fi Gravity posted an increase in its tenth weekend – arguably the result of its return to IMAX screens – to gross $543,000 (£330,000) for $46.2m (£28.1m) to date.
DISNEY
Falling 52% in its sixth weekend – the first notable drop of its entire run – Frozen took a further $2.2m (£1.31m) as it charted fourth.
Disney's Golden Globe winning animation is now up to a strong $53.9m (£32.8m) and still stands a chance of topping Iron Man 3's $60.5m (£37m) to become Disney's highest grossing 2013 release.
Saving Mr. Banks has grossed $6.8m (£4.14m) after seven weeks in play through Disney.
UNIVERSAL
Last Vegas fell just 29% in its second weekend to gross $2.1m (£1.28m) at a sturdy $5,365 (£3,263) average. Universal's comedy-drama is now up to $6.6m (£4.01m) in the UK.
Also for Universal, Moshi Monsters: The Movie is up to $2.5m (£1.5m) after four weeks in play, while 47 Ronin dropped a hefty 74% in its third weekend to add $191,000 (£116,000) for $5.1m (£3.09m).
All is Lost has so far sailed to $1.1m (£659,000).
LIONSGATE
With the art house crowd arguably flocking to 12 Years A Slave, The Railway Man still enjoyed a solid UK bow.
Lionsgate's adaptation of Eric Lomax's autobiography grossed $2m (£1.22m) from its 464 sites to chart sixth. That is, however, some way down on Colin Firth's last venture in biopics, The King's Speech, which posted a $5.8m (£3.5m) debut from 395 sites in early 2011.
Also for Lionsgate, The Hunger Games: Catching Fire has amassed $55.1m (£33.5m) after eight weeks in play.
FOX
Dropping one place to seventh, Mandela: Long Walk to Freedom recorded a $1.3m (£782,833) second weekend.
Fox's biopic is now up to $5m (£3.1m) in the UK and is well placed to become director Justin Chadwick's best-ever UK performer, currently The Other Boleyn Girl's $8m (£4.89m) result.
Also for Fox, The Secret Life of Walter Mitty crossed the £6m mark in its third weekend as it grossed $779,000 (£473,359) for $10.1m (£6.1m).
It needs a stronger hold in its fourth weekend if it's to challenge Tropic Thunder's $14.2m (£8.7m) as Ben Stiller's highest grossing directorial outing in the UK.
Walking with Dinosaurs has so far journeyed to $8.2m (£5m) in the UK, following a $603,000 (£366,296) fourth weekend through Fox.
PARAMOUNT
Now in its fourth week of reporting, Anchorman 2: The Legend Continues took an additional $1.2m (£760,000) as it slipped to ninth. Paramount's comedy sequel has now amassed a healthy $22.2m (£13.5m) in the UK.
Falling almost 50% in its second weekend, Paranormal Activity: The Marked Ones added $822,000 (£502,000) for $4.2m (£2.58m). The spin-off is likely to end as the lowest UK grosser of the found footage franchise, currently Paranormal Activity 4's $9.8m (£6m).
The performance of Fox's Devil's Due this coming weekend could give an indication whether The Marked Ones' relatively soft display is down to audience fatigue for either found footage or the Paranormal Activity series in general.
Nebraska stands at $876,000 (£535,000).
STUDIOCANAL
In its exclusive run at the Empire Leicester Square, Formula 1 documentary 1 – Life on the Limit recorded a $1,900 (£1,144) debut through StudioCanal.
UPCOMING RELEASES
This week sees saturation releases for Fox's Devil's Due (out Jan 16) and Universal's The Wolf of Wall Street.
Sony's Tim's Vermeer and Content Media's Crystal Fairy are among the films receiving a limited release.