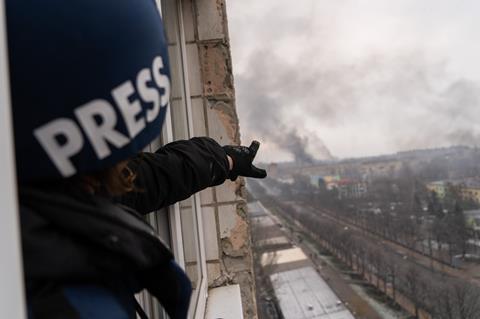 Mstyslav Chernov's unflinching account of the early days of the Russian invasion of Ukraine, 20 Days In Mariupol, has won the NPO IDFA Audience Award at International Documentary Film Festival Amsterdam (IDFA).
The €5,000 prize was awarded at the Royal Theater Tuschinski in Amsterdam on Saturday night, (November 18) followed by a special screening of the film. The award is based on votes by festival visitors who rate the films directly following their screenings via a QR code.
Following a group of Ukrainian journalists trapped inside the besieged city of Mariupol, 20 Days In Mariupol world premiered at Sundance this year, scooping the audience award in the world cinema documentary category. Chernov's debut feature went on to screen at CPH: DOX, Cleveland, Docudays, Seattle, DocAviv and Sheffield Doc:Fest where it picked up the Tim Hetherington award. 20 Days In Mariupol is a co-production between The Associated Press and Frontline, and is Ukraine's entry to the 2024 international feature category of the Academy Awards.
This year, 142 films competed for the Audience Award at IDFA. 20 Days In Mariupol took the top spot with an average score of 4.91.
In second place was Zara Zerny's Echo Of You with a score of 4.88. The Danish documentary is a tender portrait of nine elderly Danish people talking about their love lives, growing old, grief, and their perspectives on life and death.
In third place was Agniia Galdanova's Queendom (with a 4.83 score), a portrait of Russian non-binary performance artist protesting against the imminent war in Ukraine and violence against the LGBTQI+ community.
Other top scoring titles were Ingrid Kamerling's They And Them (4.82), Lina Soualem's Bye Bye Tiberias (4.8), Nahid Persson's Son of the Mullah (4.8), Jordan Bryon and Monica Villamizar's Transition (4.75), Aliona van der Horst and Luuk Bouwman's Gerlach (4.74), Mohamed Jabaly's Life is Beautiful (4.71) and Tatiana Huezo's The Echo (4.71).
IDFA said that it expected a total number of 245,000 visits in 2023. During the festival, the total number of screening visits by audiences and students reached nearly 152,000, 3 percent more than in 2022. The number of visits to the festival's professional programme amounted to about 45,000.