Claudia Lennear, a US soul singer featured in Oscar-nominated documentary 20 Feet From Stardom, returned to the stage at Screen's latest awards-season event.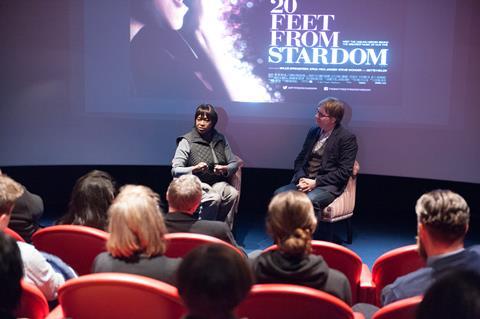 The screening was presented with Altitude, who will release in the UK starting March 28, and TWC-Radius, which handles the US release where it has made $4.8m at the box office and been named the top-grossing doc of 2013.
Morgan Neville's Oscar-nominated film looks at the work and lives of the world's best backing singers. It features interviews with the likes of Mick Jagger, Darlene Love, Lisa Fischer, Tata Vega, Bruce Springsteen and Sting.
Lennear told the audience at London's Covent Garden hotel what she learned from the documentary. "Until I saw this film, I didn't know that Darlene Love was the voice of The Crystals," referring to music producer Phil Spector's uncredited use of Love's voice on the 1960s girl group's singles.
Lennear made her name singing back-up for Ike and Tina Turner. She also sang bank-up vocals on Joe Cocker's 1970 Mad Dogs and Englishmen tour and live album and on George Harrison's Concert for Bangladesh.
Talking about how she got involved with 20 Feet From Stardom, Lennear revealed that Sheryl Crow suggested the filmmakers contact her, despite the two having never met or worked together. "They found me 35 miles outside of Los Angeles, where I'd always been," Lennear recalled.
Her meetings with Mick Jagger are often cited as inspiration for The Rolling Stones' Brown Sugar while David Bowie is said to have written Lady Grinning Soul about Lennear.
Asked about an eye-roll she gives in the documentary when asked about Jagger and her appearance in Playboy, the singer said: "Looking back I don't regret one moment. I remember meeting Hugh Heffner in his pyjamas and him talking me into it over the course of a year.
"There's two ways of exposing yourself – and I'm sure you'll get the double entendre there. The first is to get your name out there. There other is become a sex symbol. You can keep your shirt on but I was happy to take off mine."
Following a short-lived solo career, Lennear left the music industry to become a teacher. "I don't sing rock and roll anymore and do more choir and classical singing," she added. "I wish I had known more about the business side but I loved the experience."