Sony's sequel posts strong $8.1m (£4.85m) bow to dethrone Maleficent; Warner Bros' Grace of Monaco lands with $400,000 (£238,000).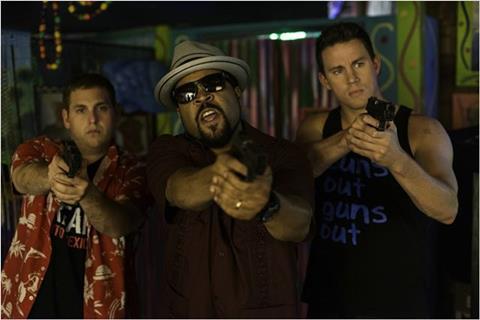 Stealing a march on the World Cup, 22 Jump Street has moved into top spot at the UK box office.
Sony's sequel posted a strong $8.1m (£4.85m) debut from its 456 sites, an opening three times that of its predecessor. 21 Jump Street started its UK run with $2.6m (£1.6m) from 389 sites on its way to $17m (£10.1m).
This year's The Lego Movie remains co-directors Phil Lord & Christopher Miller's best-ever UK bow at $13.5m (£8.1m) from 547 sites, including $3.7m (£2.2m) in previews, but that should come as little surprise given that film's family-friendly certificate.
However, with little competition opening over the coming weeks as a result of the World Cup and with strong word of mouth, 22 Jump Street should be set for a long run at the UK box office.
Also for Sony, The Amazing Spider-Man 2 has swung to $40.4m (£24.03m) to date.
DISNEY
It might have dropped from the top spot, but Maleficent enjoyed a superb second weekend in the UK.
Excluding previews, Disney's reimagining of Sleeping Beauty fell just 32% (and just 1% on Saturday) as it conjured up $4.4m (£2.6m) for $18.6m (£11.05m). It will likely overtake Oz the Great and Powerful's $25.9m (£15.4m) in the coming weeks.
Maleficent's strong performance in a busy market bodes well for Disney's next ventures into fairy tales, Into the Woods (out Jan 9, 2015) and Cinderella (out March 27, 2015).
FOX
As expected, Fox's X-Men: Days of Future Past is now the highest grossing outing of the franchise in the UK at $38.8m (£23.1m), surpassing X2's $34.8m (£20.7m).
It dropped 48% in its third weekend to take $3m (£1.8m) as it fell one place to third.
Also for Fox, Rio 2 has flown to $25.2m (£15m) following a $193,000 (£114,810) tenth weekend.
WARNER BROS
Producing a sturdy hold in its second weekend was Warner Bros' Edge of Tomorrow with $2.1m (£1.23m). Doug Liman's action sci-fi is now up to $7.2m (£4.3m) and could also benefit from the lack of major openers during the World Cup.
Also for Warner Bros, Godzilla grossed an additional $798,000 (£475,000) and has now roared its way to $27.6m (£16.4m).
Cannes opener Grace of Monaco landed with an uninspiring, if not unexpected, $400,000 (£238,000) from its 338 sites.
While that does mark director Olivier Dahan's best-ever UK bow ahead of La Vie en Rose's $345,000 (£205,659) from just 58 sites, it may struggle to match that film's $2.9m (£1.7m) result.
Comparisons could be made to the similarly critically derided Diana which recorded a $1m (£622,915) debut from its 523 sites last year.
UNIVERSAL
Falling 61% in its second weekend, Universal's A Million Ways to Die in the West added $804,000 (£479,000) for $4.4m (£2.6m) after ten days in play.
Also for Universal, Bad Neighbours has amassed an excellent $26.4m (£15.73m) following a $297,000 (£177,000) fifth weekend.
LIONSGATE
Now in its third week of release, Lionsgate's Postman Pat: The Movie delivered $416,000 (£247,344) for a solid $4.7m (£2.8m) to date.
EONE
Ken Loach's latest directorial outing Jimmy's Hall grossed $132,000 (£78,759) for $558,000 (£331,969) after ten days in play through eOne.
STUDIOCANAL
Currently playing in 88 sites, The Two Faces of January earned an extra $96,000 (£57,140) for a UK tally to date of $2.4m (£1.4m).
CURZON FILM WORLD
In its second weekend of release through Curzon Film World, Venus in Fur added a further $12,000 (£7,034) for $50,000 (£29,934).
KOCH MEDIA
Receiving late night shows at 11 sites as a result of its day-and-date VoD release, Cheap Thrills grossed $1,200 (£738) through Koch Media.
UPCOMING RELEASES
This week sees saturation releases for Fox's Belle and Warner Bros' Oculus, while eOne's T.S. Spivet and Entertainment's Devil's Knot both receive wide releases.
Kaleidoscope's Road (opens June 11), Dogwoof's 112 Weddings and Icon's A Perfect Plan are among the films receiving a limited release.