Ferenc Török's 1945 wins two awards.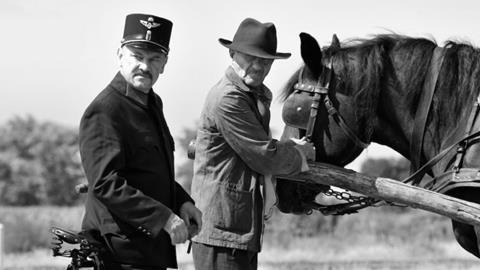 The 37th San Francisco Jewish Film Festival presented by the Jewish Film Institute ended its 18-day run recently when top brass handed out awards.
The festival, which ran from July 20-August 6, presented 65 films from 14 countries, as well as performances and discussions to more than 40,000 audience members.
In partnership with the San Francisco Film Critics Guide, SFJFF awarded the San Francisco Film Critics Circle Award for best narrative feature to Ferenc Török's centerpiece screening 1945 and Andrei Konchalovsky's Paradise.
Török's 1945 and Alexandra Dean's closing night selection Bombshell: The Hedy Lamarr Story were presented with the SFJFF audience awards for the best narrative and best documentary feature, respectively.
Menemsha holds North American rights to post-war drama 1945 and has scheduled a November 1 theatrical launch in New York. The film premiered in Berlin's Panorama section in February.
"In a year in which national discussions of identity and belonging are more important than ever, the growth and increased diversity of SFJFF's audience is evidence that culturally-specific film festivals are truly relevant to those from multiple backgrounds and perspectives," the Jewish Film Institute's executive director Lexi Leban said.
"In addition to the consistently strong slate of international and domestic films presented that SFJFF is known for, we also added in notable augmented programming experiences, including a live musical performance at the Castro Theatre and a dance presentation in partnership with ODC Theater," the Jewish Film Institute's programme director Jay Rosenblatt added.
The 38th San Francisco Jewish Film Festival will take place July 19-August 5, 2018.
More information click here.