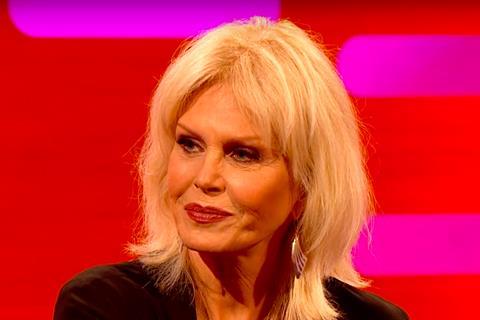 Bafta CEO Amanda Berry has said that Joanna Lumley's acceptance speech for her Bafta TV Fellowship in May 2017 went a long way to convincing the organisation's hierarchy that she would be a fitting successor to Stephen Fry who hosted the ceremony for 12 years.
"The list of people who could host an awards ceremony is very short," Berry told Screen.
"It is not an easy job. You need to get the tone absolutely right. You need to be able to guide the audience seamlessly through proceedings while keeping the attention on the nominees. We were all taken aback by Joanna's brilliant speech when she received the Bafta TV Fellowship last year. She was so charming and mesmerising. When we talked about candidates she was on the list from early on. It wasn't a difficult decision. We didn't have a lot of time because Stephen only stepped down a few months ago. Thankfully she said yes quickly."
Graham Norton and James Corden are also understood to have been on the organisation's radar.
Lumley got a rapturous reception when she received the Bafta Fellowship at the Bafta TV Awards last May.
In the speech Lumley said that many actors live a charmed life: "I am like a piece of cellophane, laid over the industry. I have done nothing. We as actors, we are dragged about in golden carriages which are laid on tracks over swamps at midnight by men in their underpants, and we are lit and furnished with words and costumed and made up and addressed. We have stunt performers to make us look better. We have people who drive and dress us. We have people who feed us – and caterers are so important. We have all this, and we arrive and sometimes people say, "You are so funny in that". And you say, "Yes, thanks!" It's all somebody else."
The speech also raised some eyebrows, however, when Lumley suggested that discrimination doesn't exist among actors: "I am in the company that I wish to keep, ever since I was young. I wanted to be with people who have left race and religion and age and gender and shoe size and things outside the door when they came. People who are in our profession don't have those discriminations."
Lumley is best known for playing the character Patsy in BBC sitcom Absolutely Fabulous and has had roles in movies including The Wolf of Wall Street, Ella Enchanted and Paddington 2 - which is up for three Baftas this year.
The actress will be the first female host to front the Bafta awards alone. The last woman to co-host the awards was Mariella Frostrup in 2001.
Yesterday, Lumley said that Bafta nominees may decide to "take the lead" from Sunday's Golden Globes, where most guests wore black as a mark of solidarity with victims of sexual assault and harassment.
"Perhaps we will see this all black-gowned Baftas this year," Lumley told BBC Breakfast. "But I think people can wear what they want. It's going to be interesting to see how it works, anyway."
Bafta CEO Berry told Screen that she expects the black clothing protest to continue throughout awards season.