Director discusses cinema/VoD debate at Karlovy Vary film festival.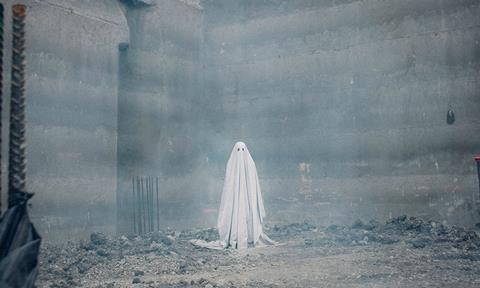 David Lowery, the director of Sundance hit A Ghost Story, talked about the impact of Netflix on the film industry at a press conference promoting the film at the Karlovy Vary International Film Festival.
Lowery said: "I am a devotee of the big screen. I like to watch everything on the big screen and I made my movie to be watched on the big screen. That being said, I want my movies to get made.
"[Netflix] are setting aside the theatrical experience more than I'd be comfortable with, but I'd rather them do that and not make the movies. I fully support and endorse them and I'd be delighted to collaborate with them.
"I know that most people will ultimately see my films on a screening service of some sort… so I should set aside my own ego to a certain extent to have my own work projected on a giant screen.
"I would've loved to see War Machine on the big screen, that would've been my personal preference, but I'm still glad I got to see it.
"They do a service to the industry by producing movies that would otherwise not be able to find financing. If you look at these movies that cost $2-10 million, no-one else is paying for them. It's a great thing to have an outlet like that."
The Old Man And The Gun
Whilst discussing A Ghost Story alongside star Casey Affleck, Lowery also updated on the duo's next project, The Old Man And The Gun, co-starring Robert Redford and Sissy Spacek.
Lowery said: "We finished shooting it a couple of weeks ago, and it is currently waiting for me to get back from Europe to keep editing it. It'll be [out] sometime next year. It is a lot of fun. We were trying new things with it.
"As much as A Ghost Story is experimental, to me The Old Man And The Gun feels experimental as well. Not because it has people wearing a bedsheet, but because we were trying to have fun, keep it light hearted.
"I think all of us wanted to pay tribute to our lead actor Robert Redford who has been an inspiration to all of us at this table, and wanted to make a film that is in many ways a tribute to his career, the roles he's played and the legend that he is in the world of cinema."
The Old Man And The Gun is based on the true story of Forrest Tucker, from his escape from San Quentin at the age of 70 to an unprecedented string of heists that confounded authorities and enchanted the public.
Lowery wrote and directed the film based on a short story by David Grann that appeared in The New Yorker.
A Ghost Story stars Affleck, Rooney Mara, Will Oldham, Sonia Acevedo, Rob Zabrecky and Liz Franke. A24 are handling distribution and are partnering with Picturehouse in the UK.
Affleck and Lowery were presenting a special screening of A Ghost Story at Karlovy Vary, which runs June 30 - July 8.