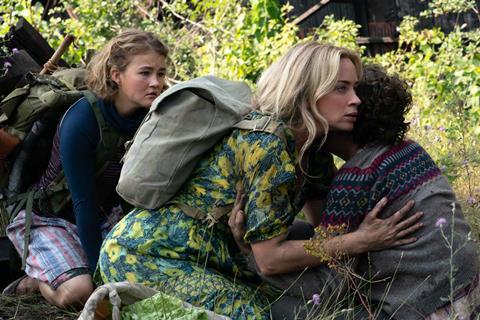 UPDATED: In positive signs for cinema-going Paramount's A Quiet Place Part II starring Emily Blunt scored $47.4m for the best North American debut since the pandemic and is on track to gross $57m over the four-day Memorial Day holiday weekend.
Meanwhile Disney's origins story Cruella starring Emma Stone and Emma Thompson debuted in North America on $21.3m over three says and is projected to gross $26.5m through Monday.
Driven by these two releases, total North American box office for the weekend is expected to finish on more than $100m.
Internationally, A Quiet Place Part II earned $22m, while Cruella grossed $16.1m from 29 markets.
Horror sequel A Quiet Place Part II plays in 3,726 venues and earned $19.35m on Friday, $15.05m on Saturday after a 22% drop, and $13m (-14%) and $47.4m over the three-day portion of the long weekend.
The release will play for 45 days exclusively in cinemas before it debuts on Paramount+. Its weekend debut compares favourably with the $50.2m April 2018 three-day bow of the original, which went on to gross $188m. John Krasinski returns to the director's chair.
Cruella plays in 3,892 cinemas, grossing an estimated $7.7m on Friday, $7.2m on Saturday, and $6.4m on Sunday, with $5.2m forecast for Monday. The film also launched simultaneously on Disney+ Premier Access, however studio executives did not indicate how it performed on the service.
Executives said females made up 64% and males 36% of the audience. By age, the 25-34 age group accounted for the lion's share of ticket sales on 24%, followed by 18-24 on 17%, 35-44 on 16%, 45 and older on 14%, 13-17 on 12%, 10-12 on 10%, and nine and under 7%.
Raya And The Last Dragon, which also followed the day-and-date pattern when it launched three months ago, added $2.1m over three days and an estimated $2.8m over four to bring the tally after 13 weeks of theatrical release to $51.6m.
After nine sessions, Godzilla vs. Kong has reached $98.3m through Warner Bros and ranks sixth, while Demon Slayer: The Movie ranks seventh and stands at $45.2m after six weekends through Funimation.
Dream Horse added $652,000 for $1.8m in its second weekend through Bleecker Street and climbed one place to number eight.
Provinces in Canada including Toronto and Alberta remain closed due to the recent Covid-19 surge there.