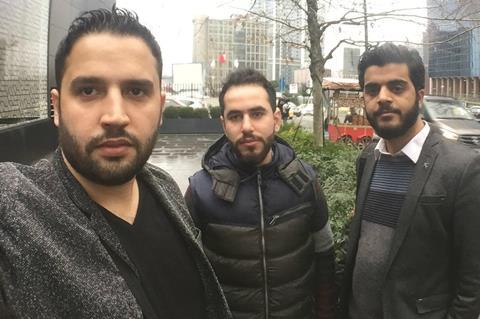 The Academy of Motion Picture Arts And Sciences has expressed its solidarity with Syrian producer Kareen Abeed of Oscar-nominated Last Men In Aleppo and his team after he was denied a visa to enter the US to attend the upcoming 90th annual Academy Awards.
It is understood Abeed, pictured at left with assistant director Hassan Kattan and cinematographer Fadi Al Halabi, will reapply after the consulate general of the US in Istanbul informed him his visa application had been denied, blocking hopes of joining other Oscar nominees in Hollywood on March 4.
US government rules forbid an appeal. Abeed and the filmmakers are currently in Turkey as they try to get permission to travel. Feras Fayyad directed Last Men In Aleppo.
"Director Feras Fayyad and producer Kareem Abeed made history with Last Men In Aleppo, the first Documentary Feature Oscar nominee from a Syrian directing-producing team," an Academy spokesperson said.
"For 90 years, the Oscars have celebrated achievement in the art of filmmaking, which seeks to transcend borders and speak to audiences around the world, regardless of national, ethnic, or religious differences.
"As supporters of filmmakers – and the human rights of all people – around the globe, we stand in solidarity with Fayyad as well as the film's producer Kareem Abeed, who was denied a visa to the United States to attend the Academy Awards on March 4."
Last year Asghar Farhadi's The Salesman won the best foreign-language Oscar after the Iranian boycotted the Academy Awards in protest over President Trump's notorious travel ban.