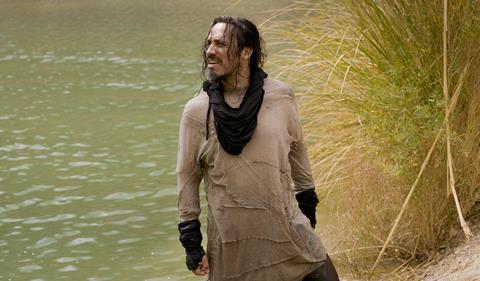 The French box office ended on a high note in 2021 after a difficult second pandemic year marked by 138 days of theatre closures followed by capacity restrictions and curfews, with some 20 million admissions for the month of December in line with pre-pandemic levels, according to the National Cinema Centre's annual report.
This was thanks in part to the stellar performance of Sony's Spider-Man: No Way Home. Released in France on December 15, the film had already beaten its predecessor's French box office performance by the end of the year, generating 4.6m entries for a gross of $33.6m, against a total of 3.2m admissions for Spider-Man: Far From Home in 2019.
Local comedy franchise The Tuche Family 4 also drew seasonal audiences for the latest episode in the life of the lottery-winning family, ratcheting up 2 million admissions for a $14.4m gross from December 8 until the end of the year. It looks unlikely, however, to achieve the 5.6m admissions of its 2018 predecessor.
There were 96.2m cinema admissions in total in France across 2021 for a 47% increase on 2020 when there were 65.1m admissions, but a 55% drop on pre-pandemic 2019 which registered 213m admissions. For the actual 227 days when cinemas were open, the drop in admissions was 25% against the same period in 2019.
This gave an overall gross of roughly $706.5m (based on an average ticket price of €6.79/$7.68), against $542m in 2020 and $1.7bn in 2019.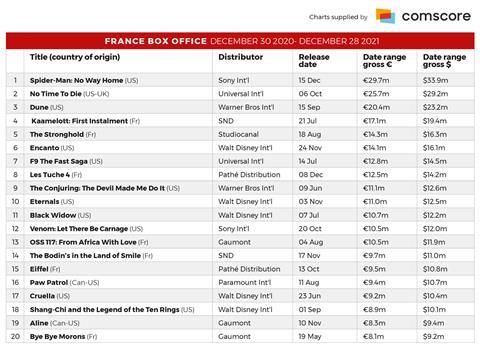 Indie frustration
Beyond the success of the US blockbusters and bigger budget mainstream local comedies and dramas in the top 20, however, it proved an often-frustrating year for France's independent distributors.
More than 500 films received some sort of theatrical release in France in 2021 but the top 20 accounted for 41% of the admissions. Having originally been shut due to a fresh wave of Covid-19 in October 2020, cinemas reopened with capacity limits and curfews on May 19, 2021.
These restrictions were fully lifted on June 30 but cinema attendance came under pressure again when a new measure was introduced on July 21 stipulating audiences needed to show a health pass proving they were fully vaccinated or in receipt of a negative Covid-19 test. This measure has recently been controversially bolstered after the French parliament voted on January 6 to transform the health pass into a Covid-19 vaccine pass, stripping away the option of providing a negative test for non-vaccinated citizens.
US tentpoles were the big winners of this policy as they started to reappear in cinemas towards the end of the year, following an 18-month absence. After Sony's Spider-Man: No Way Home, Universal's No Time To Die, and Warner Bros' Dune took the second and third slot.
A number of French-language event pictures also performed well, due in part to the absence of big US films until the autumn. Arthurian spoof Kaamelott: First Instalment sold 2.6 million tickets for local distributor SND for a $19.6m gross while Studiocanal's Marseille-set thriller The Stronghold generated 2.2 million admissions for a gross of $16.4m, putting them in fourth and fifth position on the chart
In a promising sign for France's oldest film companies, a raft of upscale films with wide appeal also made it into the top 20 such as Pathé's historic romantic comedy Eiffel and Valérie Lemercier's fictionalised portrait of Céline Dion Aline, for Gaumont.
The overall market share for French films fell to 40.8% against 44.9% in 2020 but above 34.8% in 2019. The US share of the market was 42.4% against 41.6% in 2020.
Petite Maman, Titane
There were mixed fortunes for the country's usually vibrant arthouse release scene. Céline Sciamma's critically acclaimed Petite Maman, for example. drew just 62,000 spectators over an eight-week run over the summer for a gross of roughly $420,360 for distributor Pyramide Distribution. This can be partly put down to the fact it opened in June when a 30% capacity limit was in place in theatres. This compares to the 312, 481 admissions ($2.1m) garnered for Sciamma's Portrait Of A Lady On Fire in 2019.
Julia Ducournau's Titane, which was released on July 14 to coincide with its world premiere in Cannes, drew 300k entries for Diaphana Distribution. Admissions tripled following its Palme d'Or win on July 17, but this surge was stopped in its tracks by the introduction of the health pass stipulation on July 21. It was among a number of Cannes titles impacted by the move.
The best performing A-list festival contender of 2021 was Xavier Giannoli's more mainstream literary adaptation Lost Illusions, which premiered in competition at Venice. It drew 838k spectators for Gaumont for a rough gross of $5.6m.
Looking forward to the rest of 2022, expectations are high that cinemas will remain open throughout the year as there seems to be little appetite from the government to enforce major closures or lockdowns again.
However, distributors remain jittery. UGC Distribution, for example, announced last week it was postponing the scheduled release of popular comedy franchise Serial (Bad) Weddings 3 from February 3 to April 6 due to the surge in Covid-19 cases related to the Omicron in a sign the French distribution and exhibition sector is set for another unpredictable six months at least.