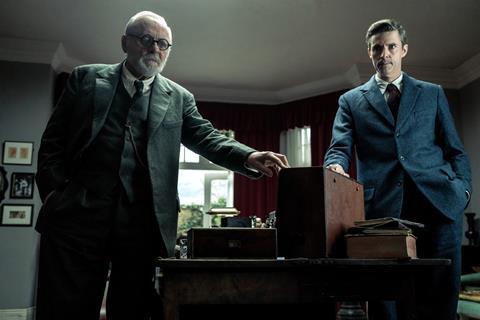 Freud's Last Session and Albert Brooks: Defending My Life are to get their world premieres at this year's AFI Fest, running October 25-29 in Los Angeles.
Also among the 141 titles in the festival's full line-up are All Of Us Strangers, American Fiction, Fallen Leaves and The Taste Of Things.
Matthew Brown's Freud's Last Session, with Anthony Hopkins and Matthew Goode, and Rob Reiner's documentary about Albert Brooks will be part of AFI Fest's Special Screening line-up.
Previously announced world premieres at the event are Leave The World Behind and Maxine's Baby: The Tyler Perry Story, which together with the previously announced Maestro make up the festival's Red Carpet section.
AFI Fest's Luminaries section includes Aki Kaurismaki's Fallen Leaves, Finland's submission for this year's international film Oscar; Matteo Garrone's The Captain, submitted by Italy; Wim Wenders' Perfect Days, Japan's submission; and Steve McQueen's Occupied City.
In all, 18 of the films submitted for this year's international feature Oscar will screen during the festival.
AFI Fest's Discovery section includes Raven Jackson's All Dirt Roads Taste Of Salt, Felipe Galvez's The Settlers and Noora Niasari's Shayda.
Among titles in the World Cinema section are Radu Jude's Do Not Expect Too Much From The End Of The World, Tran Anh Hung's The Taste Of Things and Lila Aviles' Totem.
The documentary section takes in Wim Wenders' Anselm, Kaouther Ben Hania's Cannes prize winner Four Daughters and Neo Sora's Ryuichi Sakamoto Opus.
The festival says 44% of the films in this year's selection are directed by women, 37% by BIPOC filmmakers and 18% by LGBTQIA+ filmmakers.