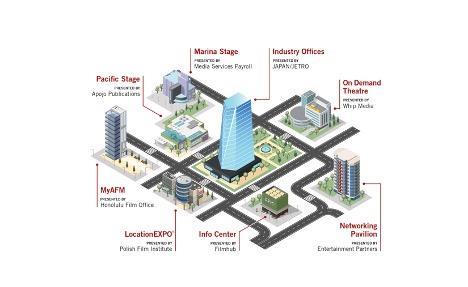 Sessions on story analysis, independent animation and Black filmmakers are among the line-up of conference events at AFM 2021 Online next month.
Organisers said on Tuesday (October 5) that more than 300 production and sales companies and international trade organisations from more than 25 countries have registered as exhibitors for the November 1-5 virtual market including Altitude Film Sales, China Film Promotion International, Cinema Management Group, Cornerstone, Dogwoof, The Exchange, HanWay, Global Screen, Highland Film Group, Myriad Pictures, Pathé International, Sierra/Affinity, and XYZ Films.
The United States currently has the largest exhibitor presence followed by the UK, Germany, Thailand, France, and Japan.
Conferences and educational programming comprise more than 50 lives sessions on two virtual stages which will be made available the same day on-demand for attendees. They include focuses on how to bridge the production insurance gap, casting, consumption of Black culture, and rejection of Black stories.
Confirmed speakers include Arclight's Brian Beckmann, JJ Caruth of The Avenue, Cassian Elwes of Elevated Film Sales, new Independent Film & Television Alliance chairperson Clay Epstein of Film Mode, Patrick Ewald of Epic Pictures, Michael Heimler from Black Bear Pictures, Tania Pinto Da Cunha of Pink Parrot Media and Jennifer Vaux, Roku.
AFM also announced its eight premiere sponsors: Apojo Publications, Entertainment Partners, Filmhub, Honolulu Film Office, JAPAN/JETRO, Media Services Payroll, Polish Film Institute, and Whip Media.