EXCLUSIVE: Hengameh Panahi re-expands historic art-house sales company Celluloid Dreams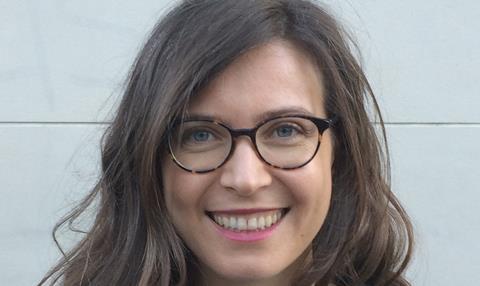 Experienced sales executive Frédérique Rouault has joined Paris-based Celluloid Dreams as head of sales.
Rouault - who was previously VP international sales at TF1 Studio (formerly TF1 International) - is debuting in her new role at the AFM.
She describes the move as a "strongly personal one" based on her love of independent auteur cinema with international appeal.
"After my time at TF1 International where I learned so much I wanted to get back to my first love and the sorts of films I love and want to defend. It's with great pride that I join a company which corresponds so closely to what I was looking for," said Rouault.
A former alumnus of elite higher education institution Sciences Po and then France's prestigious La Fémis film school, Rouault cut her teeth in the film business at Paulo Branco's Alfama Films before heading to TF1.
Celluloid is a company that continues to ferret out new talents - like the recent discovery of Marco Martins, the director of Saint George - while continuing to work with established artists like Kiyoshi Kurosawa, Jacques Audiard and Jafar Panahi," said Rouault.
At her first AFM for Celluloid, Rouault is introducing Fred Schepisi's Clive Owen-starring thriller Andorra to the market as well as 4K remastered versions of Jacques Audiard's 1994 debut thriller See How They Fall and Jonathan Demme's 1984 documentary Stop Making Sense, following Talking Heads at the height of their fame.
Other titles on its current slate include Lean On Pete, which Celluloid is co-selling with The Bureau Sales, feature-length animation The Swallows Of Kabul, Kurosawa's French-language feature Daguerreotype and the complete collection of French director Jacques Rivette's work, which has also been remastered in 4K. US distributor Cohen Media recently acquired the latter collection.
Celluloid Dreams respected founding chief Hengameh Panahi - who celebrated an A-list festival sales hat-trick in 2015 with Taxi Tehran, Dheepan and From Afar which won Berlin, Cannes and Venice respectively - is currently in the throes of re-expanding her historic sales company having worked as a virtual one-woman-band at recent markets.
A number of fresh appointments are currently underway and the company is expected to give more details about its new structure and fresh acquisitions at the beginning of 2017.