EXCLUSIVE: Binoche-starrer tops comedy driven slate.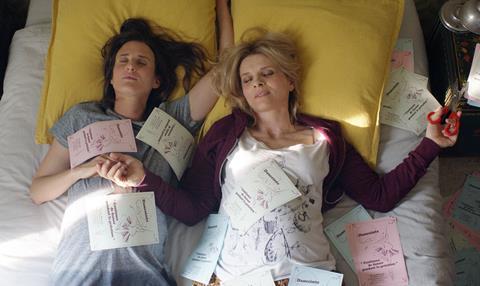 Gaumont has taken on world sales of Noémie Saglio's comedy Baby Bump(s) starring Juliette Binoche as a devil-may-care, forty-something mother who falls pregnant at the same time as her daughter.
Camille Cottin plays the long-suffering daughter who is horrified when she discovers her mother, who had a hang-up about being a grandmother, is also expecting.
It is the third feature of rising comedy director Saglio after Parisian Bitch and I Kissed A Girl.
The film — produced by Pan-Européene and Flamme Films — is currently in post-production for a March 2017 release by Gaumont in France.
Gaumont is putting the accent on comedy at this year's AFM.
Other titles on its slate include box office hit Brice From Nice, starring Oscar-winning Jean Dujardin as the hapless Mediterranean surfer dude Brice, who swaps his native Nice for Hawaii in his latest adventure.
The picture drew more than one million spectators in its first week on release in France, beginning Oct 19.
The company will also show first footage of Valerie Lemercier's comedy 50 Is The New 30 in which she also stars as a woman who forced to reinvent herself after suddenly finding herself single, unemployed and living back home with her parents again.
The slate also includes dramedy Accidental Family about a former racing driver who makes a strange connection when he decides to trace the recipient of his dead son's heart. It is latest feature from Paris-based Les Films du 24, the production house behind global hit Serial (Bad) Weddings.
Upcoming dramas on the company World War Two drama A Bag of Marbles — which will world market premiere at the AFM - and Albert Dupontel's ambitious satire See You Up There about World War One comrades turned partners in crime.