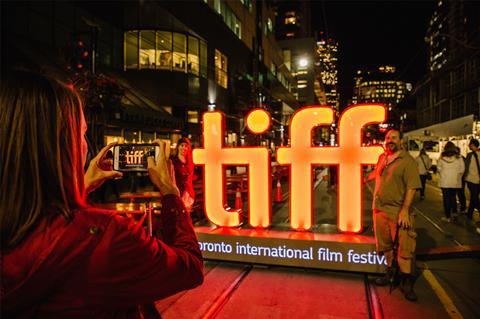 Toronto International Film Festival (TIFF) organisers on Tuesday (September 1) announced a selection of 30 global acquisition titles outside the Official Selection.
TIFF Industry Selects titles hail from 29 countries and have been hand-picked by TIFF's industry and festival programming teams and will screen to accredited users on the festival's dedicated press and industry platform, TIFF Digital Cinema Pro. Industry registration closes on September 2.
2020 TIFF Industry Selects Titles:
A Good Man (France) Marie-Castille Mention-Schaar
After Love (UK) Aleem Khan
And Tomorrow The Entire World (Germany/France) Julia Von Heinz
Apples (Greece) Christos Nikou
Baby Done (New Zealand) Curtis Vowell
Falling For Figaro (Australia/UK) Ben Lewin
The Garden (Iceland) Ragnar Bragason
Here We Are (Israel/Italy) Nir Bergman
Holler (USA) Nicole Riegel
In Between Dying (Azerbaijan/Mexico/USA) Hilal Baydarov
Karnawal (Argentina/Brazil/Chile/Mexico/Norway) Juan Pablo Félix
The Kid Detective (Canada) Evan Morgan
Kill It and Leave This Town (Poland) Mariusz Wilczynski
La Verónica (Chile) Leonardo Medel
Like a House On Fire (Canada) Jesse Noah Klein
Lovers (France) Nicole Garcia
Magic Mountains (Netherlands) Urszula Antoniak
Monday (UK/Greece/USA) Argyris Papadimitropoulos
The Monopoly Of Violence (France) David Dufresne
My Best Part (France) Nicolas Maury
My Heart Goes Boom! (Spain/Italy) Nacho Álvarez
My Name is Francesco Totti (Italy) Alex Infascelli
Passion Simple (France/Belgium/Lebanon) Danielle Arbid
Saint-Narcisse (Canada) Bruce LaBruce
Shorta (Denmark) Anders Ølholm, Frederik Louis Hviid
Should the Wind Drop (France/Armenia/Belgium) Nora Martirosyan
Sweat (Poland/Sweden) Magnus von Horn
The Ties (Italy) Daniele Luchetti
Tove (Finland/Sweden) Zaida Bergroth
The Translator (Syria/France/Belgium/Switzerland/Qatar) Rana Kazkaz, Anas Khalaf.
"As always, the industry will have a strong and healthy line-up of content to watch and add to their slates," said said Geoff Macnaughton, senior director, industry and theatrical. "International buyers rely on Toronto to discover and buy the best cinema from across the globe, and we're thrilled to support them this year with the TIFF Industry Selects distinction."
The TIFF Industry Selects programme is supported by National Promotional Agencies including German Films, the Icelandic Film Centre, Istituto Luce Cinecittà, the Israel Film Fund, Spain's Instituto de la Cinematografía y de las Artes Audiovisuales, the New Zealand Film Commission, and the Polish Film Institute.
Film professionals can access Industry Selects, Official Selection titles, and private screenings by registering for the Digital Pro Pass, which also includes the online Industry Conference events and online networking tools for producers, buyers, sales agents, and film creators.

Visit the official TIFF site here. The 45th Toronto International Film Festival runs from September 10–19.