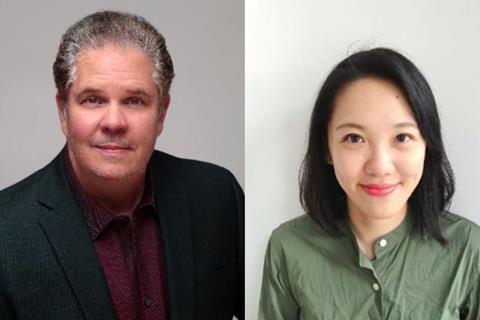 Stuart Ford's AGC Studios has brought on two more former IM Global senior executives in the form of Frank Prugo and Leslie Chen, as the company's sales division AGC International prepares to kick off sales in Toronto on Michael Moore's Fahrenheit 11/9.
Prugo joins as executive vice-president of technical operations and will be responsible for overseeing post-production and international theatrical delivery on projects for all of AGC's divisions. During his 10-year stint at IM Global, Prugo performed a similar role on more than 100 first-run features and more than 600 library titles.
Chen joins as senior vice-president of Asian sales and distribution, and in addition to handling sales for AGC International in Asia will build on her and the company's relationships in China.
During her four years at IM Global, Chen was the founder of the company's Beijing office and oversaw the Chinese distribution and pan-Asian sales for IM Global's Hollywood output.
She also built the local industry's leading export platform for Chinese-language cinema brokering output deals with the likes of Huayi Brothers and Enlight, and sales partnerships with other major local players such as China Film Group, Wanda, Alibaba Pictures and Stephen Chow's Star Overseas Productions on a slate of Chinese films that grossed more than $1 billion in worldwide box office.
The arrival of Prugo and Chen brings the number of former IM Global executives who have joined Ford in the new venture to 13.
Prior to IM Global, Prugo held various technical positions at major film and TV companies, including NBC Universal, Orion Pictures, Filmways Pictures, and First Look International.
Before she joined IM Global, Chen worked as a senior sales executive at Huayi Brothers.
"Frank and Leslie were part of the bedrock on which we built IM Global's industry leading global sales platform, so we're thrilled to welcome them back to the family and add their tremendous experience and reputations to AGC International's business," said AGC Studios COO Miguel Palos.
"It's truly a pleasure and an exciting opportunity to be involved with Stuart again in his new company, and to join him, Miguel and so many of the IM Global team that's now at AGC," said Prugo. "I can't wait to go on this journey with all of them."
Chen added, "It is an honor to join AGC and work again with the wonderful family there. I am sincerely looking forward to the work ahead."