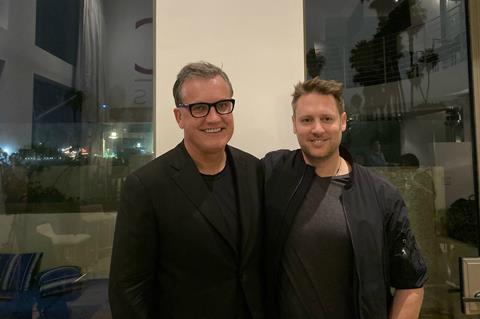 District 9 and Elysium director Neill Blomkamp returned to the AFM on Thursday morning (7) for a second presentation on sci-fi thriller Inferno after dozens of buyers were unable to get into Wednesday evening's packed session hosted by AGC Studios.
Blomkamp outlined his vision, which takes place against a dark philosophical backdrop that posits that humans are vessels created by an evil god. One buyer described the project as Seven meets Prometheus.
Taylor Kitsch will play a police officer investigating a murder case whose wife gets kidnapped. "It takes a giant galactic idea and pares it down to a murder mystery," Blomkamp told Screen.
The South African filmmaker revealed that after he spent time preparing Alien 5, which ultimately did not move ahead, he became fascinated by the police procedural genre, and wanted to steer towards "more cerebral, philosophical films shrouded in darkness with an R-rated veneer of danger."
He cited Prometheus, The Silence Of The Lambs, True Detective, and The Exorcist as tonal reference points.
Inferno is out to casting, and Blomkamp and AGC Studios head Stuart Ford are eying a March 2020 start in Albuquerque, New Mexico.