The European Film Academy's (EFA) chairwoman Agnieszka Holland has spoken of a ¨crisis of content¨ in European cinema and called on the continent's broadcasters to invest more in ambitious TV series.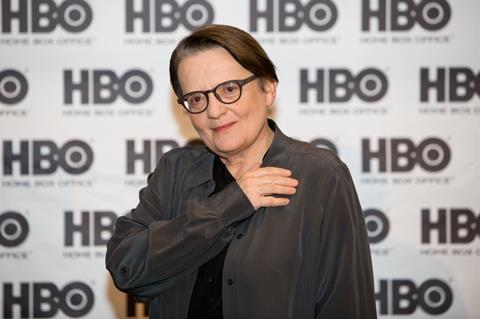 Speaking exclusively to ScreenDaily, the Polish director and EFA chair said: ¨The real crisis of European cinema is one of content.
¨We always have some good movies, but not enough. We have to make better ones, ones that are not just artistic and self-involved, but are searching for an audience.
¨Something which doesn't help is the weakness of European television in terms of the production of ambitious TV series. We don't have European stars, but nowadays they can be made by European television and that can be later reflected in the cinema.
"If you have this element [from television], it is then much easier to promote the films in the cinemas.¨
Holland also touched on the issue of EU audiovisual policy ahead of the presentation by her compatriot, Polish MEP Bogdan Wenta, of his report about ¨European film in the digital era¨ today (April 27).
As the rapporteur from the Committee on Culture and Education, he will speak to fellow MEPs gathered for the first day of this week's European Parliament's plenary session in Strasbourg.
¨There are a lot of dangers with the [EU's] copyright proposals and the [TTIP] agreement with the US,¨ she observed. ¨There are a lot of traps for the European audio-visual market.¨
Looking to Brussels and Strasbourg, Holland called for more attention to be given to the distribution of the continent's audio-visual production: ¨The fact that European films are not travelling has to change: cinema is a very important vehicle for the European Union as a real union because you can build real bridges in the hearts and minds of people through film.¨
Wenta's report - which was drafted in response to the European Commission's Communication on European cinema in the digital era from last May - supports a more flexible approach to release windows, maximising audiences and discouraging piracy as well as calling for alternative funding models (such as crowdfunding for subtitling) and stressing the role of film heritage and film and media literacy.
Polish Shooting Star in Holland's next feature
In the interview during the 10th Film Polska festival (April 22-29) in Berlin where she was a guest of honour, Holland also revealed that the former Polish Shooting Star Jakub Gierszal is to appear her next feature Game Count (Pokot), which will shoot in the Sudeten Mountains in the south-west corner of Poland on the borders with Germany and the Czech Republic.
Gierstal, who was one of the European Shooting Stars at the Berlinale in 2012 first came to wider attention with his lead role in Jan Komasa's Suicide Room and has since appeared in such films as Frauke Finsterwalder's Finsterworld, Jacek Borcuch's Lasting and Gary Shore's Dracula Untold.
¨It's a small Polish film, a crazy, contemporary story that is something between a black comedy and a thriller, touching on ecological, feminist and anarchist issues,¨ Holland explained.
The film will be an adaptation of a very provocative novel, Drive Your Plough Over the Bones Of The Dead, by the popular Polish woman writer Olga Tokarczuk, the main character being an older woman who takes revenge.
When a poacher and a number of local VIPs - all of them hunters - meet mysterious deaths, the police's suspicion falls on Janina Duszejko, a former engineer, astrologist and vegetarian, played by the venerated stage actress Stanislawa Celinska who also appeared in films by Andrzej Wajda, among others.
The cast will also include Miroslav Krobot who played the lead role in Bela Tarr's The Man From London and previously worked with Holland on her Burning Bush TV series.
The film's screenplay was developed by Holland with Tokarczuk, and will have the director's long-standing collaborator Jolanta Dylewska serving as DoP.
Game Count is being produced by Krzysztof Zanussi's Tor Film Studio in co-production with Germany's Heimatfilm, the Czech Republic's Nutprodukce and Sweden's Chimney and received backing from the EU's MEDIA Programme, the Polish Film Institute and the German-Polish Co-Development Fund.
Shooting will begin June with summer scenes followed by another two blocks in the autumn and next winter 2015/2016 for the different seasons.
Europa Distribution appeal to Oettinger
The European independent distributors body Europa Distribution (ED) is the latest industry group to voice their concerns to European Commissioner Günther Oettinger about the proposals for the Digital Single Market.
In a letter signed on behalf of ED's members by the honorary president, Swiss filmmaker Ursula Meier, and vice-president, Jakub Duszinski of Poland's Gutek Film, among others, the distributors argued that ¨tearing down the online geo-blocking barriers doesn't represent the solution.¨
¨ It would increase the fragmentation of the rights ownership (i.e. VoD rights could go to transnational operators leaving just the remaining rights to traditional distributors) and could therefore weaken and decrease the role of distributors supporting European cinema, and force them to focus on more commercial titles.¨
They warned that ¨any change in digital distribution that disincentivizes distributors from remaining in this notoriously risky area of business could seriously undermine the future growth and prpserity of the European audio-visual industry and would, undoubtedly, result in undermining cultural diversity thus limiting the choices available to citizens rather than expanding them.¨
¨Territoriality and exclusivity remain essential assets for a viable European audio-visual ecosystem, in production, distribution and exploitation on all supports (theatrical, VoD, DVD, free TV and pay TV),¨ the distributors stressed in their missive to Oettinger and Anna Herold, one of his cabinet members with responsibility for copyright issues.
ED concluded by saying that it would ¨welcome the opportunity to join a positive and constructive dialogue (such as the European Film Forum) with the European institutions and other stakeholders, each having a role in developing audiences for European film and improving cultural diversity.¨