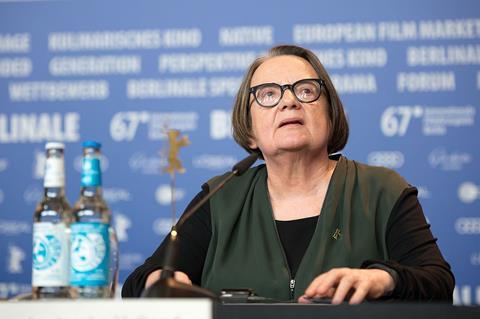 Netflix is teaming up with Oscar-nominee Agnieszka Holland on its first Polish-language original series.
The unnamed eight-episode cold war thriller is directed by Holland and her daughter Kasia Adamik and will be shot on location in Poland. It is set for worldwide release in 2018.
The series was created and written by Joshua Long and will be produced for Netflix by The Kennedy/Marshall Company and The House Media Company.
Frank Marshall (Jurassic World, Jason Bourne) and Robert Zotnowski (House Of Cards) will be executive producers on the series for The Kennedy/Marshall Company, along with Polish producer Andrzej Besztak (House Media), Joshua Long, Maciej Musiał and Agnieszka Holland.
The alternative history series is set in 2002 in a world where the Iron Curtain never fell. It follows an idealistic law student and a disgraced police investigator who stumble upon a conspiracy that has kept the Iron Curtain standing and Poland living under a repressive police state.
Holland's previous films include In Darkness, which was nominated for best foreign language film at the 2011 Academy Awards, and her 2017 Berlin Silver Bear winner Spoor.
She has also directed several episodes of House Of Cards for Netflix, and co-directed Spoor with Adamik.
Producer Frank Marshall said: "I have wanted to work with Agnieszka for a long time, so I'm very excited to be producing this series for Netflix alongside a very talented Polish cast and crew."
Holland said: "We are really happy that we'll be able to combine the wonderful experience of the Netflix team, our great American producers and writer, with Polish talent and a Polish sensibility."