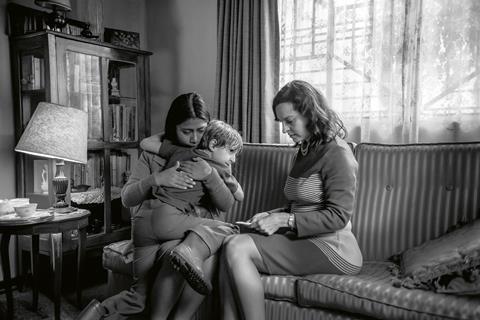 ROMA director Alfonso Cuaron has said he will "find a way" to help the central American migrant caravan after he intimated a planned donation to the refugees possibly linked to a screening in the Mexican state of Morelos had not gone ahead.
"It's a shame, if the government doesn't want to, we'll find a way to bring the film to the people of Morelos and help the caravan," the Mexican auteur and Oscar frontrunner wrote on Twitter on Thursday (29).
A subsequent tweet from the local authorities in Morelos said, "According to the secretariat of Tourism and culture, the Roma tape will continue to receive support from the Government of the state of Morelos by maintaining its cycle of projections in the Morelos cinema as it has been contemplated in four dates."
Representatives for Cuaron had not explained how he would help the caravan. Thousands of people fleeing economic hardship and violence, mostly from Honduras, as well as Guatemala and El Salvador, have travelled on foot to the US border, where they are currently housed in shelters in Tijuana and Mexicali. The Trump administration has warned that anybody who enters the US illegally could be prosecuted and deported.
Cuaron's comments come as ROMA, which earned best film, director and cinematographer awards from the New York Film Critics Circle this week, has expanded into more Mexican screens in spite of an impasse between worldwide distributor Netflix and Mexico's giant theatre chain, Cinepolis.
Netflix is working with local site operators and expanded the screen count in Mexico from six to 14 this week. The film opened in: Chopo, Mexico City; The Movie Company, Mexico City; Le Cinema IFAL, Mexico City; Sala Alternativa Aguascalientes, Aguascalientes; Cineteca Mexiquense, Toluca; Cine Tonalá Tijuana, Tijuana; Cine Morelos, Cuernavaca; and Oaxaca Cine, Oaxaca.
On December 6 ROMA will expand into a further 37 sites including venues in Guadalajara, Guanajuato, Veracruz, Durango, and Tijuana, among others. By December 6 it will be showing in 51 venues.
Cuaron has expressed disappointment that his 1970s Spanish-language black and white saga about a middle-class Mexico City family was not available in more Mexican theatres.
Cinepolis refuses to carry the film in protest over Netflix's model, which bypasses the traditional theatrical window. In an open letter to the Mexican media, Netflix's acquisitions chief Matt Brodlie wrote that Netflix would be happy to make the film available to Cinepolis if the chain opened it in theatres starting on November 21.
Cinepolis offered to carry ROMA in its theatres and donate 50% of proceeds to domestic service causes were Netflix to push back the film's Mexican launch on its platform, which is scheduled to debut worldwide on December 14. Screendaily understands Netflix is not minded to alter the global launch date.
Brodlie's letter added that, in association with its screening partners, Netflix would donate "an important part of the box office grosses in Mexico" to non-profit organisations. At time of writing, Netflix had not elaborated on those donations.
ROMA screens at TIFF Bell Lightbox in Toronto, Canada, from November 29-December 2 ahead of a full theatrical run that commences on December 6, with special screenings in 70mm starting on December 14.
The film previously launched in a handful of sites in New York and Los Angeles and expands this weekend. It screens for one night on December 7 at the Pacific Design Center in Los Angeles as part of a LACMA screening series. ROMA opens in London's Curzon Soho this weekend and expands into Curzon Bloomsbury from December 6, and into select European markets from December 7.