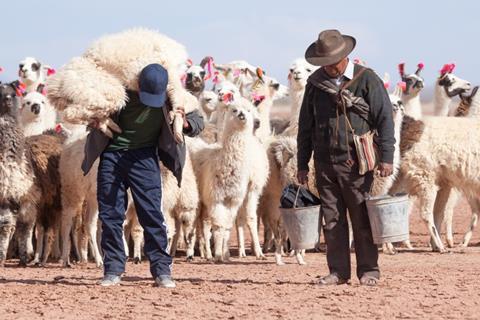 Paris-based Alpha Violet has picked up worldwide sales rights excluding Bolivia and Uruguay to Alejandro Loayza Grisi's anticipated Utama and will show footage at the virtual Cannes market next month.
The sales agent has licensed French rights on the Bolivia/Uruguay drama to Condor Distribution, whose slate includes Quo Vadis, Aida?, and First Cow. Buyers have been tracking the Alma Films production since it won three key awards at Films In Progress 39 in Toulouse earlier this year.
Currently in post, Utama is expected to land prestige festival slots this year and is set against the backdrop of the drought in the Bolivian Altiplano highlands that has forced indigenous Andean people to migrate to the cities.
The story focuses on an elderly Quechua couple that have lived in the region their entire lives. After Old Virginio falls sick, he lives out his last days hiding his illness from Sisa and is reluctant to migrate to the city like the rest of the community.
However when their grandson Clever arrives from the city bearing news, the three of them must reckon with the drought, change, and the meaning of life. José Calcina, Santos Choque, and Luisa Quispe star in the film, which is told in Quechua, Aymara, and Spanish.
Santiago Loayza Grisi of Alma Films is producing and Federico Moreira of La Mayor Cine serves as co-producer. The cinematographer is Bárbara Alvarez, who shot Lucrecia Martel's The Headless Woman and Anna Muylaert's The Second Mother.
Utama secured majority production funding from Bolivian Film Commission, minority co-production funding support from Uruguayan film Institute, and backing from Ibermedia.
"The beautiful Altiplano landscapes are the perfect location to show the climate change consequences and how it affects the most vulnerable population in Bolivia, a population that still lives practicing ancient traditions that have been preserved until today but are now threatened by the inclemency of the changing climate and the migration to the cities," said Santiago Loayza Grisi.
"The characters in the movie face a serious drought that will make them change their ways. They find themselves [facing] the dilemma of staying or migrating to the city. The arrival of their grandson, a city-born indigenous who doesn't even speak their native language, will spice things up."
Alpha Violet has built a strong reputation for its Latin American sales roster. Fernanda Valadez's multiple award-winning Mexican drama Identifying features won the World Cinema dramatic audience award at Sundance and the San Sebastian Horizons Award last year; Antonio Méndez Esparza's Mexican drama Aqui y Alla won the grand prix at 2012 Cannes Critics' Week; and Alice Furtado's Brazilian romance Sick Sick Sick debuted at Cannes Directors' Fortnight in 2019.