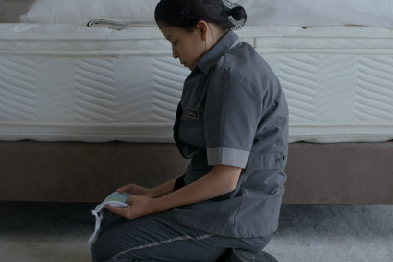 Paris-based Alpha Violet has closed a raft of deals ahead of Sunday's (9) TIFF Discovery world premiere on Mexican actor Lila Avilés' feature directorial debut The Chambermaid (La Camarista).
Rights have gone in France (Bodega Films), China (Beijing Hualu), and Mexico (Cine Caníbal).
Alpha Violet's Virginie Devesa brokered the deals with Jean Pierre Gardelli of Bodega Films, Zhuang Zhuang of Beijing Hualu, and Geminiano Pineda of Ciné Canibal.
The Chambermaid stars Gabriela Cartol as a young maid working at a luxury hotel in Mexico City where the opulence is in stark contrast to her own existence.
After Toronto the film will receive its European premiere at San Sebastian Film Festival, followed by BFI London London Film Festival and Morelia Film Festival.
Limerencia, LA Panda Productions, Bad Boy Billy Productions, IMCINE, and Bambú Audiovisual. Romy Tatiana and Graullera Lila Avilés produced, while Jana Díaz, Juhl Pau, and Brunet Axel Shalson served as executive producers.