Coming of age drama has posted strong returns during a limited opening in the US.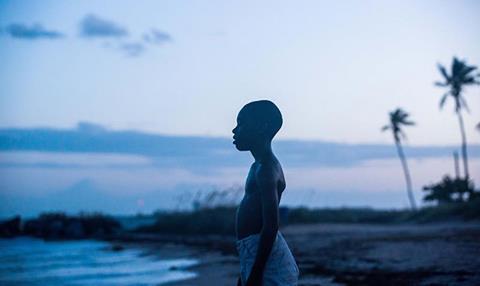 Altitude Film Distribution has picked up Barry Jenkins's awards season contender Moonlight for release in the UK and Ireland.
Premiering to rave receptions at Telluride and garnering similar praise from berths at festivals in Toronto, New York and London, the intense and emotional coming of age drama stars Trevante Rhodes in the story of a young African American man growing up in a tough Miami neighbourhood.
Altitude struck the deal with sales agent A24, who are handling US distribution where the film has returned a healthy $1.47m from its initial limited release and is set to expand over the coming weeks.
Altitude's Will Clarke commented: "Moonlight is one of those life-affirming films that immerses you in its universal themes and kaleidoscopic view of life but told with such emotional intimacy, delicacy and beauty that no-one could fail to be moved in a way that is surprising and unforgettable. It is pure cinema and a milestone in independent film.
"We pursued the film after seeing the beautiful trailer in August and falling in love with the film at Toronto. Our passion, combined with a bespoke approach to every release and proven track record suggests Moonlight is in good hands."
The film was backed by A24 and Brad Pitt's Plan B Entertainment. Producers are Jeremy Kleiner, Dede Gardner, and Adele Romansk; the executive producers are Sarah Esberg, Tarell McCraney and Brad Pitt; co-producers are Andrew Hevia and Veronica Nickel; and John Montague is associate producer.
Altitude will release Moonlight in the UK and Ireland in February 2017. "We are focussed on ensuring that Moonlight crosses over to the broadest audience possible and so we are planning an ambitious release in the UK," commented Clarke.
Altitude is also confident about the film's awards prospects. "With incredible performances from the whole cast, confident and stylish direction from Barry Jenkins (not to mention his beautifully written script), an incredibly innovative score and a bevy of wonderful reviews and strong US box office we naturally see Moonlight as not only a key contender in this year's awards race but one of the most important films of the last few years. A real cultural event," added Clarke.
Distribution and sales outfit Altitude has had a busy few weeks. It has boarded sales on Luke Evans, Kelly Reilly hostage thriller 10x10, which has a screenplay from Noel Clarke, and Tom Wilkinson and Aneurin Barnard-starring comedy Dead In A Week, as well as snapping up UK rights to Raoul Peck's feature doc I Am Not Your Negro and family animation Rock Dog.