Film starring Lambert Wilson - as legendary oceanographer Jacques-Yves Cousteau - and Audrey Tautou to hit UK screens at the end of 2016.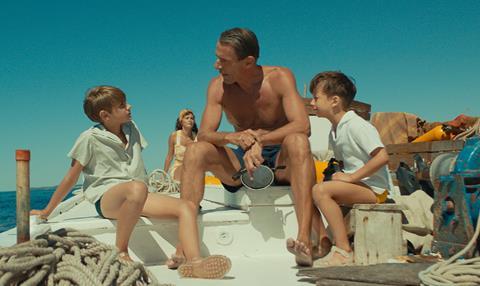 Altitude Film Entertainment and Pan-Européenne UK have entered a joint venture for the UK release of Jérôme Salle's The Odyssey, capturing the life of legendary ocean explorer Jacques-Yves Cousteau aboard his ship the Calypso.
It will be the first UK release for London-based Pan-Européenne UK, since its creation last year by French producer and distributor team Philippe Godeau and Nathalie Gastaldo Godeau.
The pair are producers on The Odyssey through their Paris-based production and distribution house Pan-Européenne alongside Olivier Delbosc and Marc Missonnier at Fidélité Films
Shot over five months in South Africa, the Antarctic and across the Mediterranean, the picture stars Lambert Wilson as Cousteau alongside Audrey Tautou as the explorer's first wife Simone and Pierre Niney as their youngest son Philippe. It is currently in post-production.
Altitude and Pan-Européenne are planning to launch the film towards the end of 2016, following its French release by Wild Bunch Distribution on October 12.
The deal comes at a time when French-language films – indeed all foreign language films – are having a tough time penetrating the UK theatrical market. According to Unifrance data released in January, the French share of the UK market was just 1.9% in 2014 against 4.6% in 2013.
Both partners believe, however, that the picture's iconic protagonist, high-end production values, high-profile cast and emotional and sweeping storyline will buck the trend.
"In working in partnership with Pan-Européenne UK, which has made a significant commitment to the UK market in setting up here, we are together taking up the challenge of reawakening the audience for French films," commented Altitude chief Will Clarke, noting that the in the past French cinema had a strong following in the UK.
Godeau added: "UK audiences seem to have lost the habit of seeing French films at the cinema. Speaking with Will, we decided it was worth making an attempt to change this and that it made sense to kick off our efforts with a big, event-style film like The Odyssey, definitely one of the most important French films of the year, for its ambition, casting and budget."
Release Strategy
Altitude's head of distribution Hamish Moseley said the company would use a similar release strategy to that applied to Asif Kapadia's Oscar-winning hit documentary Amy.
"We'll be looking to run an ambitious theatrical campaign to break it out of a small art-house niche, which is the same approach that we took when we released Amy," he said.
The Oscar-winning feature documentary – capturing the troubled life of late singer Amy Winehouse – has grossed $5.5m (£3.9m) in the UK to date, to become the second highest grossing documentary in the UK after Michael Moore's Fahrenheit 9/11.
"With Amy, we ignored the limitations that it was a documentary, in this case, we'll be ignoring the limitations that it's a foreign language film," he said. "We'll leave no stone unturned."
The film will be released on the same day in multiplexes and art-house venues in major towns and cities across the UK and Ireland and given an extensive theatrical run.
"For Amy, we kicked off with 130 cinemas and expanded from there. It's too early to give numbers on The Odyssey but it will be similar thinking," said Moseley.
Altitude's other upcoming releases include Green Room, Race, Little Men and Alone In Berlin.
Door open for future collaboration
The joint venture only covers the release of The Odyssey but both partners said they hoped it would pave the way for further collaboration.
Gastaldo Godeau said Pan-Européenne had a number of productions in the pipeline aimed at audiences in the UK as well as France.
These include an adaptation of David Lodge's novel Think… constructed around the private thoughts of a professor and novelist as they ponder whether to embark on an affair.
The project, which is in development, will be shot mainly in French against an academic backdrop in the UK and co-produced by both branches of Pan-Européenne in association with Altitude.
The company connected with Lodge when he was in Paris for a French-language run of his play based on the novel. Jean-Pierre Ameris has adapted the novel and play to the big screen and director Pierre Godeau is attached to direct.
They are also working on an adaptation of Jean-Jacques Sempé's novel Raoul Taburin Keeps A Secret — about a famous bicycle salesman who does not know how to ride a bike — and are in the process of acquiring the rights to a novel for their first English-language production.
"We're committed to both bringing French films to the UK as well as producing here under the Pan-Européenne UK banner too," said Gastaldo Godeau.