EXCLUSIVE: Netflix to launch US-Danish documentary Knox in autumn; Screen speaks to key doc companies about their lineups.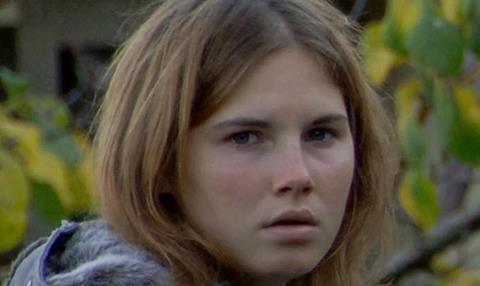 The Danish documentary world has been going from strength to strength – and not just Joshua Oppenheimer's Danish productions The Act of Killing and The Look of Silence.
Screen spoke to three of Denmark's most prominent documentary production companies last week in Copenhagen, to talk about their slates, which include a new Netflix title with exclusive access to Amanda Knox, two Syrian documentaries, and a Tribeca premiere about insects as a sustainable food source.
All the companies said Danish documentaries were booming thanks in part to generous support systems from the Danish Film Institute, which has specialist documentary funding consultants, to help them create such a range of work now.
As Signe Byrge Sorensen of Final Cut For Real says: "There is a long tradition here for documentary, and its also very diverse. People do all sorts of films, and the system backs that. The funders at the Danish Film Institute and public service TV are very open minded."
Plus pictures
Mette Heide, who founded plus pictures in 2008, is working with American directors Brian McGinn and Rod Blackhurst on Knox, which will be presented by Netflix.
The feature doc has been in the works since 2011 and promises exclusive access to Amanda Knox [pictured], her Italian ex-boyfriend, Raffaele Sollecito; prosecutor Giuliano Mignini; and Daily Mail reporter Nick Pisa. Knox was interviewed by the filmmakers in 2014, three years after being released from prison.
"It explores the human impact of the trial," Heide told Screen. "It is 'True Crime 2.0,' it explores the human side of true crime, and how a case can explode and develop because people want to know more. It will explore the personal impact of all the people involved, and it will reflect why the case became the trial of the century."
Netflix is planning an autumn 2016 launch for the 90-minute film, but the film could show up at a festival prior to that. That film has had Danish Film Institute backing from the earliest stages. Matthew Hamachek (Cartel Land) edits.
Plus has another film that will launch later this month, Mads Ellesøe's Child Soldier's New Job, about the private military industry, shot in the US, UK, Sierra Leone and Uganda. The project is investigative journalist Ellesoe's first feature film and is sold by DR.
The company is also working on The Why foundation's Why Women? international TV documentary project, which will see three films launch in May at the Women Deliver Conference in Copenhagen. Louise Kjeldsen's feature, State Of Women, follows seven women around the world including a midwife in the Philippines, a teenage girl band from Mexico, a Chinese feminist lobbyist, and an Indian acid attack campaigner.
"The idea is to follow women where they really make a difference and make a positive impact." It will also be released via the Storyville Global strand.
Heide is also developing a new film with Burma VJ director Anders Østergaard, about the conflicted relationship between the Nazis and Jewish artists at a Jewish cultural center in World War II.
Final Cut For Real
Signe Byrge Sorensen continues to develop projects with her close collaborator, BAFTA-winning, Oscar-nominated Joshua Oppenheimer. They are working on both fictional and documentary ideas together (as previously reported, Oppenheimer may work on a musical). As she notes, his work on The Act Of Killing and The Look of Silence took 12 years, so he isn't likely to have a new film shooting yet this year.
Final Cut For Real's main focus continues to be documentary, Byrge Sorensen adds. Current films include two documentaries about Syria, On Screen. Off Record. and A Comedian In A Syrian Tragedy. Both are made with Syrian-born director Rami Farah and Paris-based producer Lyana Saleh of Osor.
On Screen is about five ordinary Syrian citizens who became citizen journalists, seeing how the international media interacted with their footage, and now "reflecting on what they learned at the time and the media critique of the first 18 months of the uprising," Byrge Sorensen says.
That film has backing from the International Media Support, Timbuktu Foundation, Danida, CPH DOX pitch panel's Eurimage prize, Asia Pacific Film Fund and MEDIA. The Danish public broadcaster DR (Mette Hoffmann Meyer) is also onboard.
A Comedian… follows well-known Syrian actor and comedian Fares Helou as he goes underground after criticising the government, then flees to France and examines "how do you start from scratch in another society….it's a very intimate portrait," she adds. That film also has backing from Screen Institute Beirut.
There is also a documentary, which Monical Hellström is producing with Simon Lereng Wilmont directing, being developed in Ukraine, about children living in a war zone. That project has DFI backing already.
Final Cut for Real producer Anne Köhncke is working with Pervert Park's Frida and Lasse Barkfors on their next film Death Of A Child and on Christy Garland's What Walla Wants from Palestine, amongst other productions.
Another Final Cut For Real project is Camilla Magid's Transformation (working title), about people trying to stay out of the prison system in south central Los Angeles. It is now editing for delivery at the end of 2016 or early 2017. The producers are Heidi Elise Christensen and Byrge Sørensen and it also has DFI backing.
The company is minority co-producing Belgian director Johan Grimonprez's Shadow World, produced by Joslyn Barnes and Anadil Hossain, an artistic look at the impact of the international weapons trade. That film has its world premiere at Tribeca Film Festival this week.
Danish Documentary
The company has Andreas Johnsen's Bugs having its world premiere in Tribeca on April 16. That film is about two Nordic Film Lab chefs who explore the global possibilities of insects as a future sustainable food source.
The film is available in a 90' feature version, a 5 x 45' series, a 60' version and an 8 x 28' package. "It was a natural way of doing a series (with five episodes to each concentrate on one continent)," says Danish Documentary's producer Sigrid Dyekjaer. "We are exploring doing more series with our documentaries, especially after the success of The Jinx and Making A Murderer."
The company is headed by women – Dyekjaer as producer and then three directors Pernille Rose Grønkjær (The Monastery), Eva Mulvad (The Good Life), and Mikala Krogh (The Newsroom – Off The Record).
Mulvad is now directing A Modern Man, which will be delivered in 2017. The film is about a young British violinist and model, Charlie Siem. "It's a film about the modern man's problems, he's a classical musician trying new ways to get a younger audience," Dyekjaer says.
Mulvad is also working on A Family On The Run, about an Iranian couple who fell in love when they were married to other people, and have to try to navigate Iranian divorce law as well as European immigration laws.
Krogh is now in the Philippines shooting the story of children's sexual abuse in Manila, "following the children and digging into the more complex issues of sexual abuse," Dyekjaer says.
Another project on the slate is Max Kestner's Amateurs in Space, about two friends who try to build a 'DIY' rocket to change the future of space travel. That film is likely to be delivered in autumn and Autlook handles sales.
The company is co-producing two prominent interntional directors' new films, Ulrich Seidl's Auf Safari and Victor Kossakovsky's Aquarela.