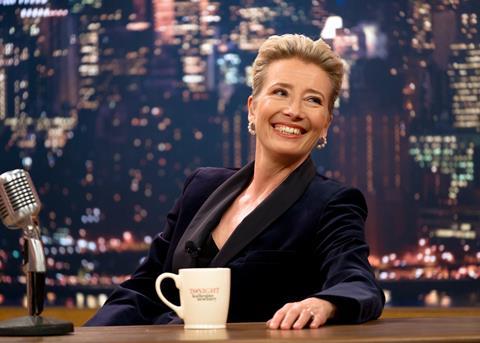 Amazon Studios has paid what is understood to be $13m for US rights to Late Night starring Emma Thompson and Mindy Kaling in one of the biggest deals ever in Park City and a major statement of intent by the streaming giant.
The film premiered on Friday night at Eccles and immediately attracted a gaggle of buyers, keenly aware not only of the appealing combination of its stars but its topicality at a time when diversity and equality in the workplace have dominated the zeitgeist.
Meanwhile Lulu Wang's debut The Farewell starring Awkwafina was the hot target at the weekend following the world premiere on Thursday night, with at least eight buyers in the race including streamers and studios.
Peter Saraf and Marc Turtletaub of Big Beach, whose Little Miss Sunshine remains one of the most beloved breakout successes of Sundance, produced the story of a Chinese family that scrambles to arrange a wedding before the grandmother dies.
Saturday's acquisitions targets include The Report, Scott Z Burns' political drama starring Oscar nominee Adam Driver as the crusading Senate staffer who led the investigation into the US's detention and interrogation programme in the wake of 9/11. Horror title The Lodge, from Austrian foreign language Oscar submission Goodnight Mommy directors Veronika Franz and Severin Fiala, premiered on Friday and screens again on Saturday afternoon.
Buyers remain interested in Honey Boy, based on a screenplay by Shia LaBeouf that chronicles his own troubled childhood and centres on a child actor and his abusive father. LaBeouf plays the father figure and Noah Jupe and Lucas Hedges the son at various stages of childhood. Alma Har'el directed.
Returning to Late Night, Kaling wrote the story about a talk show host (Thompson) who is pressured into hiring a female writer (Kaling) in a concession to diversity. Nisha Ganatra directed and has directed episodes of The Mindy Project, Transparent, Mr. Robot, and Girls.
The $13m deal is one of the biggest deals in Park City, all the more so because it only covers the US. Fox Searchlight paid $17.5m for worldwide rights to The Birth Of A Nation in 2016, while Amazon Studios got out it wallet and stumped up $12m for US rights to The Big Sick here in 2017, the same year Netflix paid $12.5m for the US and select territories on Mudbound.
FilmNation, with whom Amazon Studios has collaborated for several years, represents international sales on Late Night and financed the feature with 30WEST. CAA Media Finance and 30WEST negotiated the deal on behalf of the filmmakers.
Untitled Amazing Johnathan Documentary has created buyer interest since the premiere on Friday and the story of an illusionist who defies a fatal cancer diagnosis screens again on Saturday and Sunday in US Documentary Competition. Also stirring up a following among buyers is American Factory, which premiered on Friday and screens twice on Saturday and tells of a Chinese billionaire who opened a Fuyao factory in a former General Motors plant in Ohio.