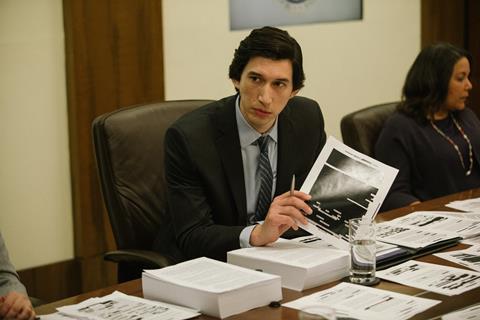 Amazon Studios has set a September 27 platform release date for the Sundance acquisition and political drama The Report starring Adam Driver, kicking off what the streamer hopes will be a major awards campaign.
The film cost the company approximately $14m when it snapped up worldwide rights in January and takes it place among a stable of awards season hopefuls believed to include Jean Seberg drama Against All Enemies starring Kristen Stewart, recent Cannes acquisitions Les Misérables, and possibly the adventure The Aeronauts, which reunites Eddie Redmayne with his The Theory Of Everything co-star, Felicity Jones.
Amazon Studios plans a platform release in New York, Los Angeles and Washington DC followed by the launch on Amazon Prime Video on October 11. While the gap between theatrical and digital launch dates is narrow, it is understood Amazon has high hopes for The Report and continues to explore release patterns on different titles as it tries to find the widest possible audience. The film will expand and remain in theatres beyond October 11 should the demand exist.
Scott Z. Burns, whose screenwriting credits include Bond 25 (shared), Contagion, The Bourne Ultimatum, and Steven Soderbergh's upcoming The Laundromat, makes his feature directorial debut on the drama and also wrote the script.
Driver portrays Daniel J. Jones, the US Senate researcher who uncovered the CIA's clandestine torture programme in the wake of 9/11. Annette Bening plays Dianne Feinstein, the Democratic Senator for California who chaired the Senate Select Committee on Intelligence at the time. The cast includes Jon Hamm.
Producers are Steven Soderbergh, Jennifer Fox, Burns, Danny Gabai of Vice Studios, Eddy Moretti and Michael Sugar. Nancy Dubuc, Shane Smith and Natalie Farrey of Vice Studios, Lila Yacoub, Michael DiVerdi, Vincent Landay and TJ Rinomato served as executive producers.
"The Report is an enthralling, investigative thriller featuring pitch perfect performances and brilliant storytelling from Scott and the entire team," said head of Amazon Studios Jennifer Salke. "We are so proud to share this uniquely authentic and incredibly timely story about a true, American hero and his quest for truth and justice with our global Prime Video customers."
"Our hope with The Report has always been that we would find a way for it to reach the largest audience possible," said Burns, whose screenwriting credits include . "We are thrilled that Amazon Studios is putting so many resources behind reaching that goal."