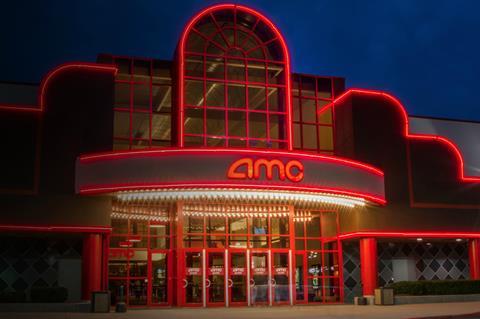 The world's largest exhibitor AMC announced on Tuesday (October 6) that it will keep its cinemas in the US and around the world open and plans to reopen more in the US including the New York and Los Angeles markets when it is safe to do so.
The news comes after Cineworld said it will temporarily close its UK sites and its US-based Regal on Thursday (October 8) due to lack of tentpole product amid the pandemic.
At time of writing AMC said more than 80% of its AMC Theatres US footprint had reopened, more than 90% of Odeon Cinemas Group across Europe were open, and 100% of AMC Cinemas in the Middle East were open.
All will remain so as long as it is safe to do so during the pandemic.
In a statement released to press, the group noted out the upcoming roster of releases that did not refer to the month of December – when Wonder Woman 1984 is currently set to open on December 25 – but name-checked around a dozen releases in October and November.
They include 101 Studios' comedy The War With Grandpa starring Robert De Niro, and Sony Pictures Worldwide Acquisitions' music drama Yellow Rose, both of which are scheduled to open on October 9.
Liam Neeson crime drama Honest Thief through Open Road Films and romance 2 Hearts from Freestyle Releasing are set for October 16, followed by Disney crime drama The Empty Man (October 23), and Focus Features mystery horror Come Play (October 30).
At time of writing the November slate features Focus Features' Kevin Costner and Diane Lane crime drama Let Him Go (November 6), Universal's horror comedy Freaky (November 3), Robert De Niro, Morgan Freeman and Tommy Lee Jones action comedy The Comeback Trail through Cloudburst Entertainment (November 3), Disney/Pixar's Soul (November 20), Universal animation The Croods: A New Age (November 25), and TriStar Pictures' rom-com Happiest Season (November 25).
The exhibitor also referred to local language films "in certain countries outside the U.S." but did not mention titles.
Universal's Freaky on November 3 would appear to be the first film to go through AMC and Universal's theatrical-PVoD partnership, whereby some films will go on to the digital platform after a minimum of 17 days in theatres.
AMC CEO and president Adam Aron said, "Fortunately for AMC, our groundbreaking agreement with Universal Studios announced earlier this summer puts AMC in a position where we can open our theatres when others may feel the need to close.
"We are fully comfortable showing Universal films in our theaters, even as they implement premium video on demand as we have mutually agreed. This is because AMC will share in premium revenues coming from their early availability in the home."
Aron also referred to the exhibitor's AMC Safe & Clean protocols developed in consultation with Clorox and faculty of the Harvard University School of Public Health, which he said had elicited positive response from patrons.