Nordisk Film & TV Fond backs five new projects including a thriller starring Emmanuelle Riva.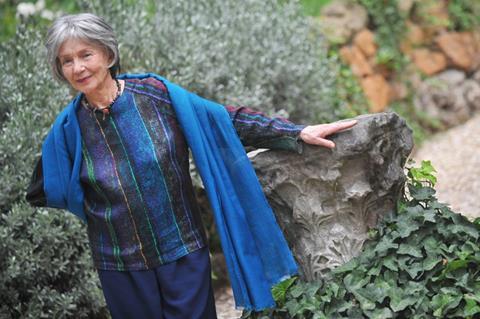 Amour's 88-year-old Oscar-nominated actress, Emmanuelle Riva, has joined the cast of Icelandic thriller Alma, the comeback film for director Kristin Johannesdottir, whose last feature was 1992 Cannes selection As In Heaven.
Alma is the story of a woman imprisoned in a forensic psychiatric unit for murdering her lover (even though she has no recollection of the crime). After seven years behind bars, she discovers her lover is still alive and escapes to kill him for real.
Newcomer Snæfriður Ingvarsdóttir, daughter of Ingvar E. Sigurðsson (Jar City, Of Horses and Men), plays the title role and the cast also features Hilmar Snær Guðnason (101 Reykjavik) and Kristbjörg Kjeld (Of Horses And Men).
Alma – set for delivery early 2017 — is co-produced by Iceland's Pegasus Pictures, with France's Arsam Film International, Sweden's Little Big Productions, the UK's Berserk Films, in collaboration with US producer Jim Stark, a frequent Jim Jarmusch collaborator.
Sena handles Icelandic distribution and Movieboosters has Scandinavian rights.
The film has been awarded $113,000 (NOK 1m) towards its overall $1.4m (€1.3m) budget in the latest batch of funding from the Nordisk Film & TV Fond.
More Nordisk funding
The Nordisk Film & TV Fond has backed a further four films – a second Icelandic thriller, Baltasar Kormakur's The Oath; Norwegian animated film The Forest of Huckybucky by Rasmus A Sivertsen; and documentaries Bugs and Ouaga Girls.
Kormakur, fresh off his hit mountaineering epic Everest, returns to his Icelandic-language roots for The Oath, which is now shooting in Reykjavik.
Kormakur also returns to his acting days by taking on the lead role in the film, as a respectable surgeon who has to turn to an act of crime in an attempt to save his drug addicted daughter. Life in a Fishbowl star Hera Hilmar plays his daughter and Gísli Örn Garðarsson plays her drug-dealing boyfriend.
The film was awarded $203,000 (NOK1.8m) by the fund. Kormakur's RVK also produces, and he wrote the script with Ólafur Egill Egilsson.
Executive producers are Kormakur's usual producer, RVK's Agnes Johansen, and Film4's David Kosse. Germany's ZDF co-finances the $3.6m (€3.3m) project, which is also supported by the Icelandic Film Centre. The Oath is set for delivery in late 2016.
In Norway, Rasmus A Sivertsen will follow-up his current box-office hit Louis & Nolan-The Big Cheese Race (which beat Star Wars: The Force Awakens over Christmas) with The Forest of Huckybucky, based on a classic tale from 1953.
The stop-motion animation project is led by Qvisten Animation, with Ove Heiborg producing with Kristiansand Dyrepark and Torbjørn Egner.
SF Film is handling Scandinavian distribution and international sales. Production started last week with the premiere set for Christmas 2016.
The film was granted $260,000 (NOK 2.3m) towards its NOK $4.7m (€4.3m) budget.
The fund awarded $62,000 (NOK550,000) to Danish documentary Bugs, produced by Sigrid Dyekjær and directed by Andreas Johnsen (Ai Wei Wei-The Fake Case).
The film follows two charismatic young chefs from the experimental Nordic Food Lab as they investigate the future of insects as food. Autlook handles international sales.
Finally, the fund gave $450,000 (NOK400,000) to Swedish documentary Ouaga Girls, produced by David Herdies for Momento Film and directed by Theresa Traore Dahlberg.
The story is about young girls in Burkina Faso who study to become car mechanics. Co-production partners include Denmark's Adomeit Film and France's Les Films du balibari, and delivery is set for last summer or early autumn.
As recently reported, the Nordisk Film & TV Fond has revamped its strategy this year to include larger investments in two to four "more ambitious" film and TV projects, as well as growing its documentary funding by 20%.
The fund has an annual budget of approximately $11.7m (DKK 80m) funded by the Nordic Council of Ministers, the five Nordic film institutes and 11 Nordic broadcasting partners.