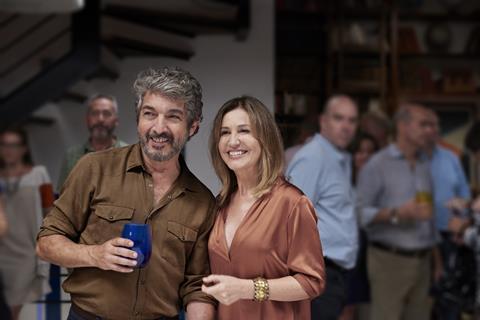 The US premiere of Argentinian rom-com An Unexpected Love starring Ricardo Darín and the world premiere of Days Of Light bookend the 2019 AFI Latin American Film Festival, set to run in Silver Spring, Maryland, from Sept. 12-Oct. 2.
Some 53 films from 23 countries will screen at the 30th anniversary event during National Hispanic Heritage Month. Organisers said nearly 40% of the selections hail from female directors.
An Unexpected Love, directed by Patagonik's Juan Vera marks Darín's first outing as producer and he stars in the rom-com alongside Mercedes Morán.
Days Of Light is an omnibus film directed by six emerging filmmakers from Panama, Costa Rica, Nicaragua, Guatemala, Honduras and El Salvador. It won second prize in the Primera Mirada work-in-progress competition at the Panama International Film Festival last year, has also participated in the Rotterdam Lab, Fundación Carolina's project development workshop and Costa Rica's Cine en Construcción.
Anticipated festival entries include the US premiere of Gael García Bernal's sophomore feature Chicuarotes; Asif Kapadia's documentary Diego Maradona; the North American Premiere of Melina León's Peruvian drama and Cannes selection Song Without A Name; Laura Amelia Guzmán's Holy Beasts from the Dominican Republic; Joanna Reposi Garibaldi's Lemebel from Chile; Wagner Moura's feature directorial debut Marighella produced by Fernando Meirelles; and Alejandro Landes' Colombian adventure Monos, winner of the World Cinema Dramatic special jury award at Sundance.
There are slots for Guatemalan director Jayro Bustamante's Ixcanul follow-up Temblores; satire The Good Girls from Mexico's Alejandra Márquez Abella; Argentinian auteur Pablo Trapero's The Quietude.
Chilean filmmaker Patricio Guzmán's The Cordillera Of Dreams, which Icarus Films just acquired for North America, takes its place in a documentary section that includes Sundance NEXT Audience Award winner The Infiltrators from Cristina Ibarra and Alex Rivera, and Cachada: The Opportunity from Marlén Viñaya.
Click here for further details about the line-up.