The ECA has also crowned its 2015-16 box office award winners.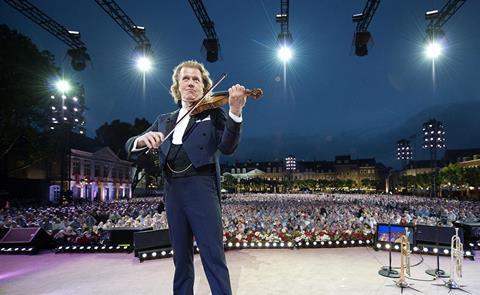 The Event Cinema Association (ECA), which promotes and supports the event cinema industry, has revealed its 2017 awards nominees.
There are four main categories - Best Distributor, Excellence in Exhibition, Best Content Provider, and Outstanding Contribution to Events Cinema - all of which are split into European, American and International nominees.
The Best Distributor award nominees in Europe are: Picturehouse Entertainment, CinemaLive, NT Live, Royal Opera House, National Amusements, Exhibition on Screen, and Cikanek Films (Czech Republic).
The Americas nominees are: BBC Americas, Cineplex, Fathom Events, Funimation, and Screenvision. The sole international nominee is Sharmill films.
In the Excellence in Exhibition category, European nominees include Europe's Odeon, Pathe and Vue, as well as independent venue Zeffirellis in the UK. Among the Americas nominees are AMC and National Amusements.
Nominees in the Best Content Provider category include Andre Rieu Productions and the Royal Opera House in Europe, The Metropolitan Opera in the Americas, and the Australian Ballet and Opera Australia in the international section.
There are a total of 17 nominees for the Outstanding Contribution to Events Cinema prize, including Andre Rieu himself – whose live concert screening again broke UK event cinema box office records in November 2016 – as well as Marc Allenby and Mike Matthews of Picturehouse Entertainment, and Caspar Nadaud of Pathe Live.
Box office winners
This year's winners of the ECA's box office awards are: the bronze award (more than 100,000 admissions) for CinemaLive's Andre Rieu concerts in 2015 and 2016; the silver award (more than 250,000 admissions) for Branagh Theatre Live's A Winter's Tale starring Dame Judy Dench; and a gold award (more than 500,000 admissions) for hit anime title Dragon Ball Z distributor Funimation, which sold 832,000 tickets in North America alone.
Melissa Cogavin of the ECA commented: "Every year we do this the ECA sees the competition for awards grow, the nominees increase in number, and the quality of the submissions rises. The ECA members will have some agonising decisions to make this week, but it'll make for a fantastic awards ceremony on February 3. Many thanks to all who have participated and to our sponsor Encompass."
See the full list of Event Cinema Awards 2017 nominees here.