EXCLUSIVE: 45 Years director confirms he will shoot his adaptation of Lean On Pete before the biopic.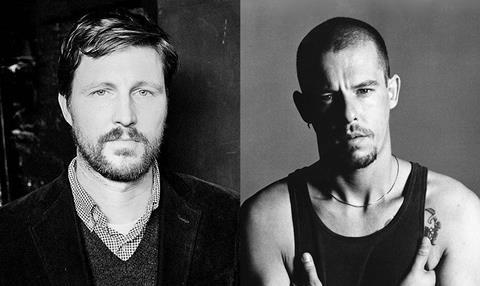 UK writer-director Andrew Haigh has spoken about his upcoming Alexander McQueen biopic for the first time, revealing it will have an "interesting take" on the life of the late fashion designer.
Haigh, whose 45 Years is nominated for the Outstanding British Film BAFTA, told ScreenDaily he had been in talks over the project since early 2015.
"The producer, Damian Jones, came to me a year ago with the idea of doing something based on [McQueen's] life," Haigh said of the project, which is backed by Pathe. "It has intrigued me from that moment."
Jones, who recently produced feature adaptations of two beloved British comedy series - Dad's Army and Absolutely Fabulous – previously optioned Andrew Wilson's McQueen biography Blood Beneath The Skin.
However, writer Chris Urch, whose latest play The Rolling Stone opened in London earlier this month, has not solely based his script on that book.
"We got together with Chris, the writer, and starting thinking about it," said Haigh. "I'm really excited about it and it's an interesting take on his life and the biopic form."
Asked for more detail, the British filmmaker said: "Ah… You'll have to wait and see."
Haigh, whose previous features include rent boy drama Greek Pete (2009) and critically-acclaimed gay love story Weekend (2011) as well as multiple award-winner 45 Years (2015), said: "Biopics are very interesting to me as to how you approach them and how best to tell a story about someone's life. Do you encompass the whole of their life or something small? That's what we've been discussing."
McQueen's demons
With McQueen, there is plenty of drama to mine. Born in London to a working class family, McQueen started making dresses for his three sisters at a young age and soon knew he wanted to become a fashion designer.
He went on to serve as an apprentice as a tailor on Savile Row, where his clients eventually included Mikhail Gorbachev and Prince Charles, and rose to the position of head designer at Givenchy before launching his self-named label.
But the openly gay designer had his demons and struggled with drugs and relationships before committing suicide in 2010, nine days after his mother died of cancer.
Asked what McQueen meant to him prior to his attachment to the film, Haigh said: "I can't say I knew everything about his life. Obviously, I knew who he was and what he did but let's say I'm not a dedicated follower of fashion.
"More interesting to me is the person, him as an artist trying to get his work done and express how he sees the world. That is what is fascinating to me. Less about the fashion and more about how he tried to be the person he wanted to be and what that meant to him, rather than just about clothes."
As for casting, Haigh added: "There are always names we're discussing and talking about. It's slightly early days but we definitely have people in mind."
Lean On Pete
Haigh spoke to ScreenDaily – for an interview about 45 Years – from Los Angeles, where he has a few weeks left on the edit of a final, one-off special of Looking, a comedy-drama series about a group of gay friends living in San Francisco which HBO cancelled after two seasons.
After that and the Oscars, where 45 Years actress Charlotte Rampling is nominated for Lead Actress, Haigh will go into prep for his next project, Lean On Pete.
That film is an adaptation of Willy Vlautin's acclaimed novel about a troubled teenager who forms an unlikely friendship with a failing racehorse. The film is backed by Film4 and produced by Haigh's long-time producer Tristan Goligher.
"We plan to shoot Lean On Pete up in Portland this summer and will edit in the UK at the end of the year," he said, confirming the project will be filmed before the McQueen biopic and stating that it was also in "the early stages of casting".
"It's going to be a busy couple of years," added Haigh. "But the idea of having two films in a row is so exciting to me. Even though it's going to be incredibly hard work, I do not want to give up that opportunity."
Haigh is represented by The Agency, Anonymous Content and CAA.