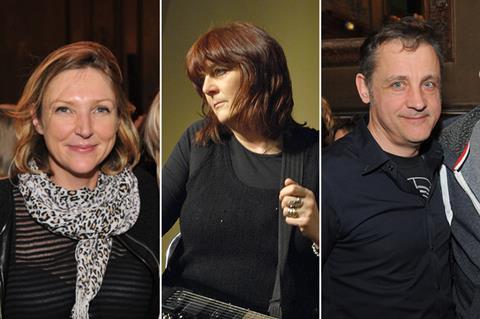 UK director Andrew Hulme, whose credits include Snow In Paradise and The Devil Outside, is to make Art, Sex, Music, a biopic about Cosey Fanni Tutti, the outrageous and controversial UK performance artist, stripper and musician.
Cosey was co-founder of experimental rock and art group, Throbbing Gristle. The film is loosely based on Cosey's autobiography, Art Sex Music and Cosey has co-written the screenplay with Hulme.
Details of the project were revealed by its producer, Christine Alderson of Ipso Facto, at the International Film Festival Rotterdam (IFFR). Alderson is a long- time Rotterdam attendee who brought both of Hulme's previous features to the festival's coproduction market, CineMart.
The BFI has provided development funding for Art Sex Music. The film will be a dramatised version of Cosey's life but will also use documentary elements including archive and interviews and will feature Cosey's art and music.
"It has got lots of the art in, lots of the sex. It goes through her use of the sex industry," Alderson said of the film which Hulme hopes to start shooting by the end of the year. The casting process is just getting underway.
"We've been working on the script for two years and we've finally got to a point where we have really turned the corner," Alderson added.
After Rotterdam Alderson heads to the European Film Market in Berlin next month to talk to potential partners. She is already looking ahead to the film's "event" release which will be accompanied by an exhibition. Cosey has a dedicated following throughout the world. The aim is to launch the film and exhibition in London, New York, Berlin and Paris.
"Andrew has always been a fan of Cosey. He had been a fan of Throbbing Gristle and loved her music. When her book came out, he read it straight away. He loved, asked me to read it, and then made the approach to her agent," Alderson explained.
Alderson's Ipso Facto will also have Ruth Platt's low- budget UK horror Martyr's Lane at the EFM. Nordic outfit Level K is selling the film which is backed by the BFI. Anderson produced alongside Katie Hodgkin.
Martyr's Lane should be ready for the autumn festivals with early footage available in Berlin.
Alongside her Ipso Facto activities, Alderson is working with UK artist Marc Quinn to produce his major new art work called 'Our Blood'. It involves thousands of people - half of whom are refugees - who will give blood. It will used for Quinn's sculpture of two identical cubes of frozen human blood, one made by donations from refugees and one from non-refugees. The cubes will be shown in New York in refrigeration units and housed in a pavilion designed by architect Norman Foster.