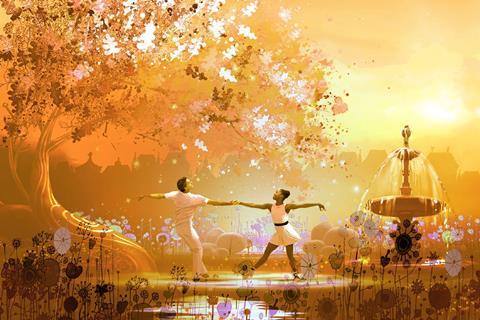 UK distributor Modern Films has picked up UK and Ireland rights to animation Coppelia from France-based Urban Distribution International. A theatrical release is planned for early this year.
Coppelia is directed by Jeff Tudor, Steven De Beul and Ben Tesseur, and premiered at the Annecy International Animation Film Festival in 2021. It combines 2D and 3D animation with live-action dance to retell the 1870 comic ballet, about a doctor who is infatuated with a life-size dancing doll. It stars dancers Michaela DePrince, Daniel Camargo, Vito Mazzeo and Darcey Bussell.
Coppelia is a co-production between the Netherlands, Germany and Belgium. It's produced by Submarine (Netherlands) with 3 Minutes West (Netherlands) in co-production with MotionWorks (Germany) and Lunanime (Belgium).
The BBC will broadcast the film later in the year, following the theatrical release.
Urban has previously sold Coppelia to NjutaFilms (Scandinavia), Estinfilm (Estonia) and Shout Factory and PBS (North America). Periscoop will release in Benelux and Square One Entertainment in German-speaking territories in early 2022.