AUGUST 14 UPDATE: Warner Bros maintains impressive summer form; Ingrid Goes West spectacular in limited release.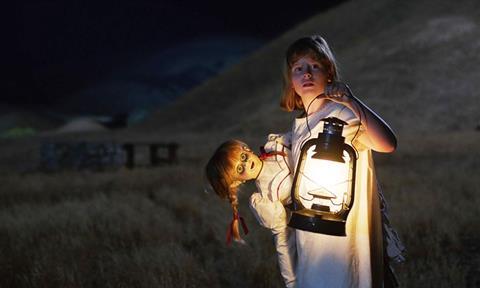 New Line's horror sequel Annabelle: Creation was the clear winner in an otherwise lacklustre session as it debuted top on a confirmed $35m through Warner Bros.
Overall, summer box office lags some 12% behind the 2016 season, and year-to-date trails by roughly 4%.
In limited release, Neon scored a spectacular debut with Sundance selection Ingrid Goes West at number 32 on $135,301 and made the most of three venues for a superb $45,100 per-screen average.
Annabelle: Creation stars Miranda Otto and Anthony LaPaglia and opened 5.6% below the $37m number one debut of Annabelle in October 2014, increasing to an 8.4% drop when the earlier release is adjusted for inflation to $38.3m.
It trailed the June 2016 $40.4m debut of The Conjuring 2 – the Annabelle films are inspired by that property – by 13.3%. Annabelle finished on $84.3m and The Conjuring 2 $102.5m.
Last weekend's champion The Dark Tower fell 59.2% and three slots to fourth and added $7.8m for $34.3m through Sony. Dunkirk was second best in its fourth weekend, adding $10.9m for $153.2m via Warner Bros, which is enjoying a strong summer that kicked off with global smash Wonder Woman.
Animation The Nut Job 2: Nutty By Nature arrived in third place on an uninspiring $8.3m in 4,003 theatres. That was less than half the $19.4m January 2014 debut of The Nut Job – 54% behind, falling to 56% against the original film's $20.3m debut in real terms.
Last week Tang Media Capital confirmed it had acquired Open Road, which Tom Ortenberg launched in 2011 with the backing of AMC and Regal theatre groups.
The only other new arrival to break into the top 10 was Lionsgate-Summit's drama The Glass Castle starring Brie Larson, Woody Harrelson and Naomi Watts. It debuted in ninth place on $4.7m in 1,461 sites.
Kidnap, the Halle Barry thriller released last weekend by new distributor Aviron, fell 49.1% and three places to number eight, adding $5.1m for $19.3m.
Detroit slipped five slots to number 13 in its third session through another new distributor, Annapurna Pictures. The film fell 59.5% on $2.9m for $13.3m. Valerian ranks 17th through STX and stands at $38.4m after four weekends. Atomic Blonde ranks tenth through Focus Features on $42.7m after three sessions.
Participant Media's documentary An Inconvenient Sequel: Truth To Power slipped two places to number 16 on $815,947 for $2.3m after three sessions through Paramount and will stick around heading into awards season.
Besides the excellent debut of Ingrid Goes West, Bollywood comedy-drama Toilet: Ek Prem Katha placed 19th through Reliance Big Pictures on $678,532 from 175 venues. Well Go USA opened Jang Hoon's Fantasia International Film Festival closing night film A Taxi Driver at number 22 on $331,854 from 41.
A24 launched the Safdie brothers' crime drama and recent Cannes selection Good Time starring Robert Pattinson. It placed 35th on $125,101 from four for an excellent $31,275 average.
IFC opened The Trip To Spain, the latest in the comedy documentary road movie series featuring British comics Steve Coogan and Rob Brydon. The film ranks 44th on $45,306 from three sites.
Overall box office for the top 12 releases amounted to $101.9m, down 7.6% on last weekend and down 35.7% on the comparable session in 2016 when Suicide Squad stayed top of the pile in its second session through Warner Bros on $43.5m for $222.6m, and Sausage Party debuted in second place through Sony on $34.3m.
This week's wide releases are both action comedies: The Hitman's Bodyguard starring Ryan Reynolds and Samuel Jackson through Lionsgate-Summit; and Steven Soderbergh's Logan Lucky with Channing Tatum, Daniel Craig, Adam Driver and Riley Keough via Bleecker Street.
Confirmed top 10 North America August 11-13, 2017
Film (Dist) / Conf wkd gross / Conf total to date
1 (-) Annabelle: Creation (Warner Bros) Warner Bros Pictures International $35m –
2 (2) Dunkirk (Warner Bros) Warner Bros Pictures International $10.9m $153.2m
3 (-) The Nut Job 2: Nutty By Nature (Open Road) Open Road International / FilmNation $8.3m –
4 (1) The Dark Tower (Sony) Sony Pictures Releasing International $7.8m $34.3m
5 (4) Girls Trip (Universal) Universal Pictures International $6.47m $97.1m
6 (3) The Emoji Movie (Sony) Sony Pictures Releasing International $6.45m $63.4m
7 (6) Spider-Man: Homecoming (Sony) Sony Pictures Releasing International $6m $306.4m
8 (5) Kidnap (Aviron) Lotus Entertainment $5.1m $19.3m
9 (-) The Glass Tower (Lionsgate) Lionsgate International $4.7m –
10 (7) Atomic Blonde (Focus Features) Universal Pictures International, Sierra/Affinity $4.5m $42.7m