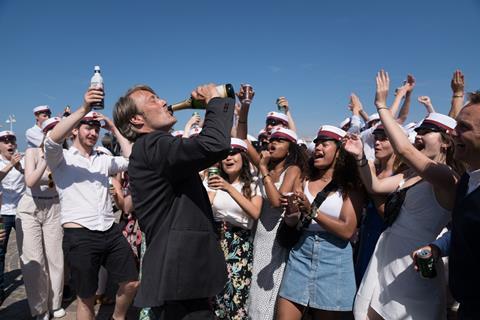 Egypt's El Gouna Film Festival (GFF) has signalled that it is pushing on with plans for a physical event this autumn amid the ongoing Covid-19 pandemic and announced the line-up of 12 international features due to play at its fourth edition running October 23 to 31.
A number of the selections will physically world premiere at the Autumn festivals, including Thomas Vinterberg's Cannes 2020 label title Another Round (Toronto), and Venice Giornate Degli Autori titles Oasis and The Whaler Boy.
A number of Berlinale 2020 titles are in the mix including Special Silver Bear winner Delete History, by French directors Benoît Delépine and Gustave Kervern, and Damiano and Fabio D'Innocenzo's Bad Tales, which won a Silver Bear for best screenplay.

French drama Ibrahim is another Cannes 2020 label selection, whilst Viggo Mortensen's directing debut Falling premiered at Sundance.
Unfolding in the Egyptian Red Sea resort of El Gouna, the festival announced in June that it was delaying its dates to late October, against its previously announced slot of September 24 to October 2, due to the Covid-19 pandemic
Under its plans, the aim is to hold physical screenings in El Gouna while the festival's industry events – which include CineGouna Platform – are expected to move online.
"In spite of the current global challenges, we are committed to showcasing the best and most important works of the year from all parts of the world at the festival's 4th edition," said festival director Intishal Al Timimi.
"Thanks to the faith the international film fraternity has placed in us, I am pleased to declare that our search for the best movies is going very well so far."
The festival moves this year to the new El Gouna Conference and Culture Centre (GCCC), which features a large open-air space created for the staging of open-air cultural and cinematic events.
The Middle East festival calendar looks set to be busy in the coming months in spite of the Covid-19 pandemic although many events are planning stripped-down programmes.
Jordan's new Amman International Film Festival will unfold August 23 to 31 while the Cairo International Film Festival (CIFF) is aiming to keep to its announced dates of November 19 to 28 as planned. Morocco's Marrakech International Film Festival, which set November 13 to 21 dates this year, has yet to make any pronouncements on its Covid-19 era plans.
The full El Gouna programme will be announced at the end of September.
El Gouna's 2020 international feature selection:
Bad Tales (Italy, Switzerland)
Dirs. Damiano and Fabio D'Innocenzo
Days Of Cannibalism (France, South Africa)
Dir. Teboho Edkins
Irradiated (France, Cambodia)
Dir. Rithy Panh
Delete History (France)
Dirs. Benoît Delépine and Gustave Kervern
Berlin Alexanderplatz (Germany, Netherlands)
Dir. Burhan Qurbani.
Father (Serbia)
Dir. Srdan Golubović
Falling (US, Canada)
Dir. Viggo Mortensen
Banksy Most Wanted (France)
Dir. Aurélia Rouvier and Seamus Haley
Ibrahim (France)
Dir. Samir Guesmi
Another Round (Denmark)
Dir. Thomas Vinterberg
Oasis (Serbia)
Dir. Ivan Ikić
The Whaler Boy (Poland)
Dir. Philipp Yuryev