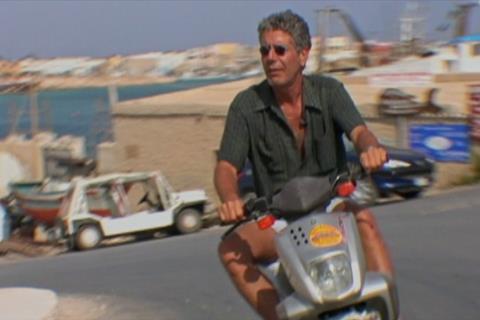 Tribeca Festival 2021 has announced 66 films in the line-up of the upcoming outdoor 20th anniversary edition that runs June 9-20, including documentaries on the late food and travel broadcaster Anthony Bourdain and Norwegian pop icons A-ha.
The selection will present 56 world premieres and focuses on comedic, music-centered, and socially-conscious films. Many of the films will also be available for US audiences to view online the day after they premiere in person through the Tribeca at Home virtual hub.
Curated Juneteenth programming throughout the festival will celebrate voices from the African Diaspora, with special emphasis on African-American artists, performers, filmmakers, and interdisciplinary creators.
Features include Nana Mensah's Queen Of Glory, John Maggio's A Choice Of Weapons: Inspired By Gordon Parks, as of yet directed by Chanel James and Taylor Garron; and BITCHIN': The Sound And Fury Of Rick James by Sacha Jenkins.
World premiere festival selections in US Narrative Competition include Josef Kubota Wladyka's revenge thriller Catch The Fair One produced by Nomadland's Mollye Asher, with Darren Aronofsky on board as executive producer; Hannah Marks' romance Mark, Mary & Some Other People; and drama Poser from Ori Segev, Noah Dixon.
Documentary Competition entries include Eddie Martin's The Kids, an update on the children feature in Larry Clark's Kids; gun violence story All These Sons from Bing Liu, Joshua Altman; and Blind Ambition directed by Robert Coe, Warwick Ross about Zimbabwean wine tasting Olympics team.
Among the International Narrative selections are Elisabeth Vogler's single-shot Paris pandemic essay Roaring 20's (France); Andrew Gaynord's reunion drama All My Friends Hate Me (UK); and Thomas Daneskov's Wild Men (Denmark), about one man's attempt to find purpose in life.
Spotlight Narrative selections include Amber Sealy's No Man Of God starring Elijah Wood as FBI investigator Bill Hagmaier, who interviewed serial killer Ted Bundy on Death Row; Josh Ruben's horror-comedy Werewolves Within; and Vanessa Kirby in Adam Leon's Italian Studies, about a confused woman in Manhattan who bonds with a teenager.
Spotlight Documentary entries include Focus Features' Roadrunner: A Film About Anthony Bourdain (pictured) directed by Morgan Neville; Thomas Robsahm's A-ha The Movie; and Lady Boss: The Jackie Collins Story by Laura Fairrie.
As previously announced In The Heights, the screen adaptation of Lin-Manuel Miranda's Tony Award-winning musical, directed by Jon M. Chu, will open the festival.
"After a year of closed cinemas, canceled gatherings, and virtual everything, it is with joy and hope that we finally invite New Yorkers out of their homes and back to the movies. Immersed in the city itself, Tribeca 2021 will bring once-in-a-lifetime big-screen experiences to filmmakers and audiences alike as we reconnect, re-imagine, and reopen through the shared experience of film," said Cara Cusumano, festival director and vice-president of programming for Tribeca Festival.
Films will screen at Brookfield Place New York, Pier 57 Rooftop, The Battery, Hudson Yards in Manhattan; Empire Outlets in Staten Island, and The MetroTech Commons in Brooklyn. On top of this the festival will host community screenings across New York's five boroughs on several 40-foot state-of-the-art mobile LED cinemas.
Besides the 66 features, Tribeca announced 52 films from last year's cancelled event that have been invited back to give the filmmakers a live premiere screening. They include: Banksy Most Wanted directed by Aurélia Rouvier and Seamus Haley; Heidi Ewing's I Carry You With Me; Nadia Szold's Larry Flint For President; and Muta'Ali's Yusuf Hawkins: Storm Over Brooklyn.
Additional programming from other sections will be announced in the coming weeks.